StarCode POS is the top choice for small businesses like retail stores, pharmacies, restaurants, toy shops, and more. With its robust inventory management and point-of-sale features, StarCode is an essential tool for managing and growing your business.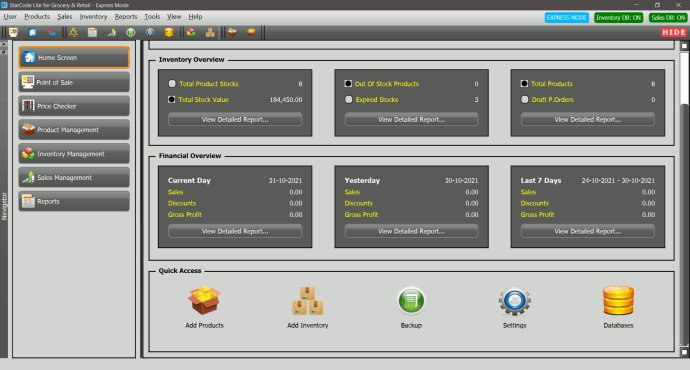 If you own a business, regardless of its size, it's essential to keep track of your suppliers, products, and purchases to prevent losses from happening. StarCode is a specialized software that caters to different types of businesses, such as retail shops, pharmacies, restaurants, toy shops, grocery stores, shoe shops, jewelry businesses, and computer shops. This software has everything you need to manage your business and keep you in control.

One of the standout features of StarCode is its user-friendly interface that even basic computer users can navigate efficiently. The software is available in three variants: Lite, Plus, and Pro, and each edition provides varying levels of functionality depending on the user's needs.

StarCode POS and Inventory Manager operates in two modes - Express or Network. In Express mode, it doesn't require any additional database server installations or configurations, and you can use it immediately after installation. All data is stored locally and can be exported via USB or Google Drive. Express mode is ideal for standalone use, where multiple users don't need to log in to the system simultaneously.

If your business requires networked access to your inventory, StarCode has got you covered. You can switch to Network mode, where all of your data will be stored on a central database server. For this mode, you will need to set up a MySQL server, and it is best suited for businesses with multiple users accessing the system at the same time.

Regardless of which mode you are using (Express or Network), StarCode Lite POS provides you with necessary features such as inventory and product management, backup and data restoration, POS hardware connectivity, refunds and discounts, and more. With StarCode Plus and Pro editions, you will get additional features such as barcode designing, generation, and multi-user support.

Overall, StarCode is an excellent software solution that helps businesses manage their inventory, products, and purchases efficiently. Its user-friendly interface and different operating modes make it the perfect software for both basic users and experienced professionals. Try it out today and experience high-quality and ease of use for yourself!
What's New
Version 20.6.0: 1. Important tweaks
2. Improved activation and support for Windows 11