StreamGaGa Amazon Downloader provides users with a seamless downloading experience for Amazon Platform videos. It ensures high-quality 1080p resolution and immersive EAC3 5.1 audio. Downloading favorite Amazon videos has never been easier with this software.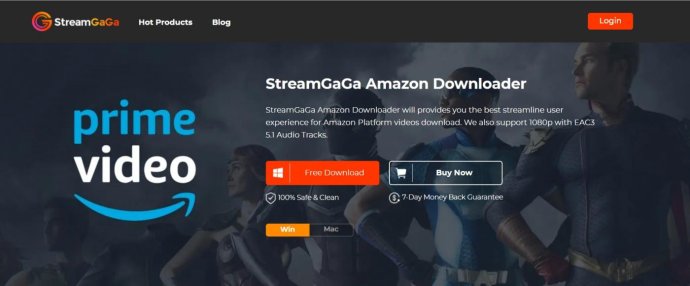 StreamGaGa Amazon Downloader is a powerful software that aims to enhance your streaming experience on the Amazon Platform. With its wide range of features, this downloader ensures that you can enjoy your favorite Amazon videos offline at your convenience.

One of the standout features of StreamGaGa Amazon Downloader is its ability to support all Prime Video regional sites. No matter where you are located, you can effortlessly download videos from any regional Amazon site, opening up a world of content for you to explore and enjoy. Another significant advantage is the unlimited download speed with GPU Boost, allowing for faster downloads.

When it comes to download quality, StreamGaGa Amazon Downloader excels in delivering high-quality videos. It supports 1080p resolution and EAC3 5.1 audio tracks, offering a truly immersive and cinematic experience.

Annoying ads will no longer be a bother when using this downloader. StreamGaGa Amazon Downloader ensures a seamless video download experience, free from any intrusive advertisements. Say goodbye to interruptions and distractions, and focus on enjoying your favorite content.

If you prefer watching videos with subtitles, StreamGaGa Amazon Downloader has got you covered. This tool allows you to download subtitles and save them as SRT files, ensuring that you can easily enable subtitles while watching the downloaded videos offline.

For added convenience, StreamGaGa Amazon Downloader offers a batch download function. You can select multiple videos and initiate the download process all at once, saving you time and effort. This feature is particularly useful for users who want to download entire seasons of TV shows or create a collection of movies to enjoy offline.

To ensure compatibility across different devices and players, StreamGaGa Amazon Downloader can also automatically transfer downloaded videos to the MP4 file format. This makes it easy to access your downloaded videos on various devices without any compatibility issues.

In conclusion, StreamGaGa Amazon Downloader is a comprehensive software that enhances your Amazon streaming experience. With its impressive range of features, including support for regional sites, high-quality downloads, ad-free experience, subtitle downloads, batch downloads, and compatibility across devices, this downloader provides a seamless and enjoyable offline viewing experience.
What's New
Version 1.1.8.3: N/A