StreamGaGa Paramount Plus Downloader offers lightning-fast speeds and high-resolution video downloads up to HD 1080p with GPU Accelerate and Turbo Speed. It supports various formats like MP4 and MKV, offers a free trial for three downloads, and is designed for seamless use with Paramount Plus streaming service.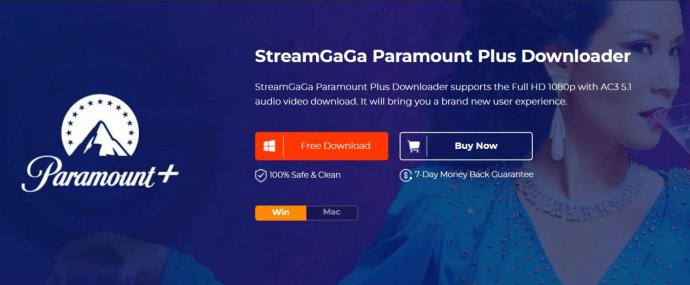 StreamGaGa Paramount Plus Downloader is an exceptional software that enhances your streaming experience. It enables you to effortlessly download your favorite videos from Paramount Plus, ensuring that you never miss out on any entertainment. With StreamGaGa, you can watch your desired shows and movies offline, create a personal video library, and easily share content with friends. This software has got you covered.

StreamGaGa supports HD 1080p quality, immersing you in a world of high-resolution videos. Enjoy stunning visuals and crystal-clear details that bring your favorite Paramount Plus content to life. Say goodbye to buffering and slow downloads because StreamGaGa has high-speed downloading capabilities powered by GPU Accelerate and Turbo Speed. You can now download your favorite videos in an instant.

StreamGaGa offers broad format support, including popular formats such as MP4 and MKV. This makes it incredibly easy to enjoy your content whenever and wherever you want.

Get started with StreamGaGa today and enjoy the convenience of a free trial for three downloads. Test the software's full potential and experience its powerful features firsthand. Additionally, with just one account, you can use StreamGaGa on up to five different PCs, providing flexibility and convenience across multiple devices.

StreamGaGa offers more than just video downloads. It allows you to download subtitle files separately, ensuring that you can enjoy your content with accurate and synchronized subtitles. Save time and effort with batch downloading, which allows you to download multiple videos simultaneously. StreamGaGa's ad-free, simple, and easy-to-use interface ensures a seamless and hassle-free experience, allowing you to focus on enjoying your downloaded content.

Upgrade your streaming experience today and don't miss out on your favorite Paramount Plus content. Download, watch, and enjoy your favorite videos offline with the powerful and feature-rich StreamGaGa software.
What's New
Version 1.1.8.9: N/A