MediaCenter.pro is a comprehensive software tool for managing and editing images, complete with filters and presentation options. The platform includes a geotag feature, allowing for easy location tagging, and lets users share their photos, galleries, and slideshows online.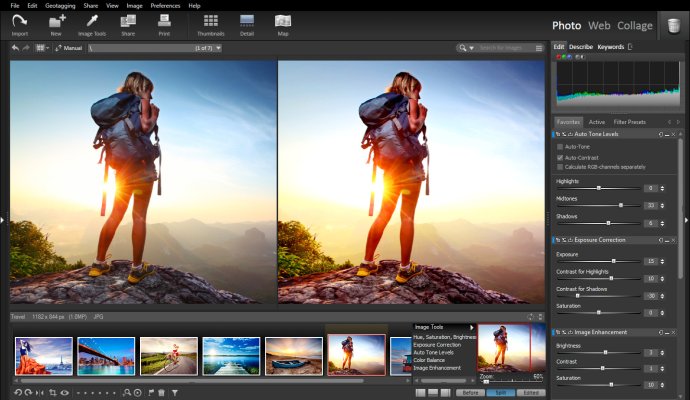 StudioLine Photo Classic 4 is an advanced software designed for managing and archiving images. With its integrated image tools and filters, it enables users to edit and manipulate images to their liking. The load assistant simplifies the process of loading photos from various sources including cameras such as Canon cameras, hard disks or other media.

Users can categorize their images with unlimited amounts of text in various system and user descriptor fields. The drag-and-drop feature allows them to easily drag keywords to images while the auto-complete option helps to suggest previously used values, eliminating mistakes and maintaining consistency.

StudioLine Photo Classic 4 is equipped with a GPS information retrieval feature that can automatically retrieve GPS data from data loggers and populate the location data of photos. Users can also manually geotag images directly on a map. The ergonomical search feature in the menu bar helps to quickly find images by any criteria. Advanced search options that look up information in any combination of fields are also available.

For optimal composition, the crop, rotate and alignment tool includes grids based on squares, rules of thirds and the golden ratio. Users can preserve image proportions and adopt identical image editing steps and settings, as well as descriptions and other metadata, to any number of similar images with just a mouse click.

Original images are always maintained unaltered, so that edits can be rolled back, even individually, at any time. The software also allows users to personalize watermarks by combining graphics with text, and rotate, align or tile as needed. This ensures that exported or shared images discourage unauthorized use.

Overall, StudioLine Photo Classic 4 is a powerful software that offers numerous features and editing tools to make image management and editing easy and enjoyable.
What's New
Version 4.2.71: You can find a list of recent changes on our website: http://www.studioline.net/version-history-classic/