SunFirewall is a user-friendly remote desktop security software with advanced protection features. This comprehensive tool provides metadata analysis and ensures data security.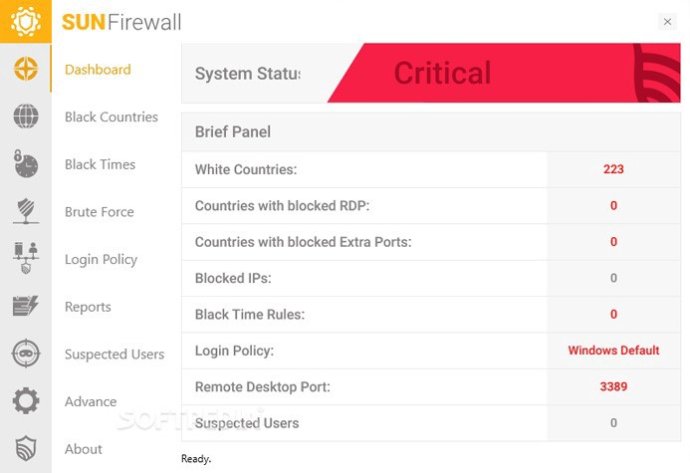 If you're looking for a reliable and powerful firewall for remote desktop connection, SunFirewall is definitely worth checking out. This paid tool offers a user-friendly interface, making it easy to keep your data protected during remote desktop sessions.

One of SunFirewall's key strengths lies in its ability to monitor suspicious activities and quickly detect and block brute force attacks. Additionally, it can automatically switch to different remote desktop ports in order to boost security even further.

But that's not all - SunFirewall also lets you define "black" countries and times, allowing you to specify certain locations and times when access will be restricted. And thanks to its advanced reporting features, you can easily view detailed information about any security attacks or blocked IPs during the week, month, or year.

Perhaps most impressively, SunFirewall's reporting tools also allow you to separate data based on geographic location. This makes it easy to spot any patterns or trends in attacks or intrusions, and can help you better protect your remote desktop connection in the future.

Overall, SunFirewall is an excellent choice for anyone looking for a comprehensive and easy-to-use dedicated firewall. With its powerful features and reliable performance, it's sure to keep your data safe and secure no matter where you are.
What's New
Version 2.0.0.4: Fixes and improvements.
Version 2.0.0.1: Some GUI problems fixed
Version 1.0.6.0: Some bugs fixed