This software is a label with HTML formatting features supporting a limited set of HTML tags. Apart from bevel borders, it also includes features like hover events and keyboard interface for anchors, blinking text, and supports formats like GIF, JPEG, ICO, BMP, and WMF.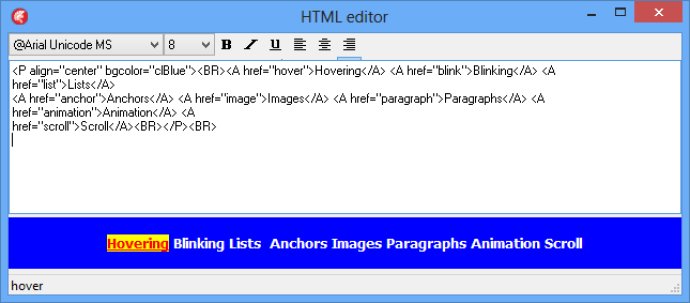 Looking for a label with HTML formatted text? Look no further than this amazing software! It supports a wide range of HTML formatting tags, making it easy to create beautiful and professional-looking text.

What's more, the software comes with a range of additional features that make it an absolute must-have for any serious developer. These include bevel borders, events for anchor clicks and hovering, keyboard interfaces for anchors, blinking text and support for a variety of image formats, including GIF, JPEG, ICO, BMP, and WMF.

Users will also appreciate the mini scrollbar, various autosizing styles, and the HTML property editor that comes included with the product. All in all, this is a top-of-the-line software product that is sure to make your life as a developer easier and more enjoyable. So why wait? Download it today and start exploring all the amazing features this software has to offer!
What's New
Version 1.3.1.2: Fixed : Issue with reparenting & blinking