TurnAbout is a free Arcadia multiplayer game creator that enables users to develop and distribute their own custom multiplayer games using the Arcadia game/chat/server platform. The program includes a selection of initial games, with the option to add more.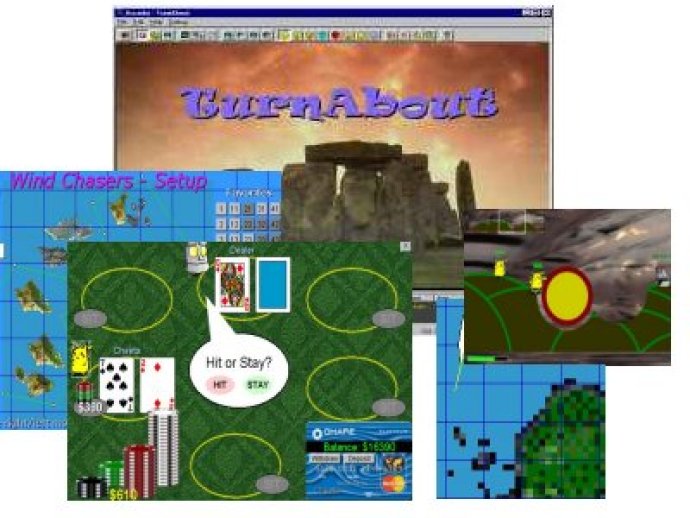 TurnAbout is a software that offers a great opportunity for gamers to create and share their own multiplayer games. With the help of the Arcadia multiplayer game/chat/server environment, you can easily craft games using the TurnAbout software. It also provides some games to start with, including Blackjack, Feud, and WindChasers, a sailboat racing simulator.

The TurnAbout API comes in Lua language, which is an easy-to-learn language with instant gratification. This software is suitable for budding programmers looking for an easy environment to develop multiplayer games or for professionals who want to whip out a functional game in a matter of hours. Additionally, Lua allows you to focus on your game without worrying about sound, graphics or networking/server support, as the API takes care of these aspects.

Furthermore, TurnAbout includes a hierarchical card editor that can be used to easily create card-based board games such as Monopoly, or you can take over the screen and create whatever types of games you like. The TurnAbout API is continually developed with new features, so be sure to ask for anything else you need while creating games.

As part of the Synthetic Reality "Arcadia" family of games, TurnAbout provides an integrated MIX server for adding additional channels at will. With Arcadia, you can enjoy text chat, voice chat, web browsing, and a parallel existence 'park' environment for serenity, duck-feeding, and paintball while waiting for other players to show up.

Moreover, Arcadia allows you to create a personal identity with which to expose your current emotional state and maintain a diary of other players you have met in the game. Overall, TurnAbout provides an excellent platform for game developers, beginners or professionals, to create fun multiplayer games that can be enjoyed with friends and family.
What's New
Version 1.0: N/A