This software utility can recover NTFS5 partition tables, deleted files, folders, subfolders, encrypted data, and unreadable text documents. It can also undelete inaccessible files, audio, video, pictures, images, clips, movies, photos, and recover missing root directories. It supports file formats like txt, doc, and jpeg.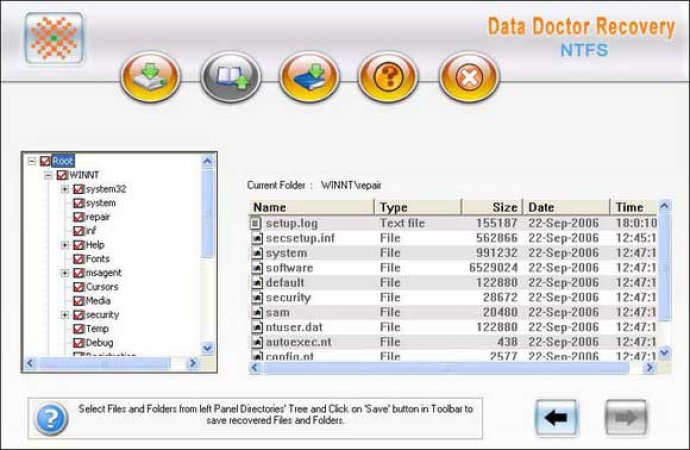 This software review is for a program designed to recover deleted data from an NTFS volume. With this tool, users can retrieve lost images, files, folders, pictures, GIFs, JPGs, JPEGs, RIFFs, TIFFs, missing master file tables (MFT), root directories, corrupted NTFS5 partition file systems, master boot records (MBR), unreadable documents (DOC, PPT, XLS, MDB), encrypted text (TXT), and restore inaccessible audio, video, movies, clips, and photos (PNG, AVI, MOV, MPG, MPEG).

The software supports the restoration of lost or deleted data from MS Office programs such as MS Word, MS Excel, MS PowerPoint, MS Access, PST, MIDI, BMP, and PSD. It features a user-friendly graphical interface with popup and dropdown boxes that make it easy to access the software.

This utility can help recover permanently lost data that has been deleted from the recycle bin or deleted by pressing the combination of shift+del key. The tool supports the rescue of missing data from crashed hard disk drives, digital media, SATA, ATA, PATA, damaged micro drives, SCSI, iSCSI, corrupted IDE, EIDE, or any other secondary storage device.

Furthermore, the utility supports undeletion of data that has been affected by computer viruses, power failures, and hardware/software malfunctions. The recovery of data files, folders, and subfolders is also possible, even if the disk has been formatted, reformatted, partitioned, or repartitioned.

Overall, the software has many useful features, including recovery of inaccessible files, folders, audio, video, movies, clips, PNGs, AVIs, MOVs, MPG, MPEGs, etc. It is compatible with various operating systems such as Windows 98, NT, ME, 2000, 2003, Windows NT 3.x, Windows NT 4.x, Window XP, and Windows XP media center edition 2005. It also supports the recovery of lost data, missing root directories, NTFS/NTFS5 partition file systems, partition tables, deleted pictures, images, photos, GIFs, JPGs, JPEGs, RIFFs, TIFFs, and unreadable encrypted data, files, documents, and text (TXT, DOC, PPT, XLS). The user-friendly GUI further enhances the ease of access to the NTFS partition recovery software.
What's New
Version 4.0.1.5: Support NTFS partition recovery for latest hard disk drive