VideoPower GREEN is a powerful software for audio and screen recording, video editing, and task scheduling. It also allows for easy uploading to various platforms such as Vimeo, YouTube, Google Drive, Dropbox, and FTP. Annotating and screen capturing functions are also available.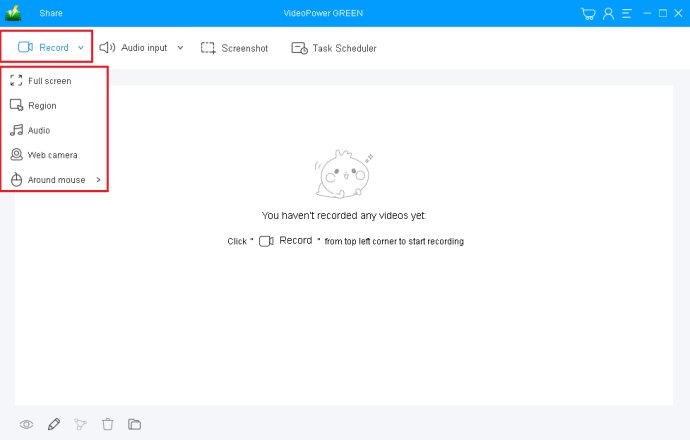 VideoPower GREEN is an excellent software product that caters to all your audio and video recording needs, video editing, and task scheduling requirements. It comes equipped with a host of features, making it stand out from other standard applications in the market. One of the most significant advantages of VideoPower GREEN is the ability to upload audio or video recordings to popular online platforms like YouTube, Vimeo, Google Drive, Dropbox, and FTP seamlessly.

Audio and Screen Recording is one of the most used features of VideoPower GREEN. There are five modes available for screen recording, such as Full-screen, by Region, Audio-only, with Webcam, and Around Mouse. For audio input, you have a choice of using the System only, Microphone, both System and Microphone, or none. You can also add text, shapes, and colors while recording, enhancing your recording experience.

With the Screenshot feature, VideoPower GREEN allows you to add text, shapes, and colors while capturing the screen. You can edit the screenshot as per your preferred style, giving it a more personalized look.

Video editing is another essential feature in VideoPower GREEN. You can install the built-in plugin that serves as a video editor, allowing you to customize and convert your videos to your desired format, making it more convenient for you.

Task Scheduler is the unique and featured feature that sets VideoPower GREEN apart. It enables you to create a trigger to set a task Daily, Weekly, or any day of the week to help reduce your workload. You can specify the time duration and set the task to repeat multiple times in the given duration. Moreover, you can set the Action to Record Full Screen, by Region, Use Webcam, or Audio-only. For every completed task, you can set the application to shut down immediately.

VideoPower GREEN provides a lot of options and modes for each function. Thus, it adapts to your preference and creativity in working, enabling you to produce better results. In conclusion, VideoPower GREEN is a worthy investment that will take your audio and video recording, editing, and task scheduling experience to a whole new level.
What's New
Version V2.4.2.1: fix some bugs and upgrade main features