Easily convert any recorded music to MIDI or control your MIDI synthesizer with an "analog" instrument using advanced polyphonic transcription technology.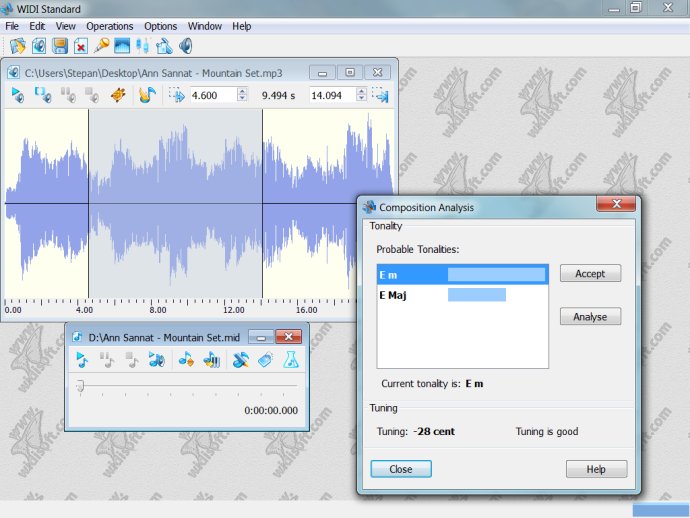 If you are looking for a hassle-free way to transcribe your favorite music compositions into MIDI files, WIDI Recognition System might just be the perfect solution. This polyphonic Audio to MIDI transcriber supports CD tracks, MP3 and Wave files and can automatically generate polyphonic MIDI files in just several seconds. That's not all – WIDI Recognition System also features real-time conversion capabilities, meaning you can sing or play a musical instrument and have it converted on the fly.

The program's advanced recognition algorithms ensure the best conversion quality possible, making it ideal for retrieving music notation from Audio files, practicing or teaching music, and more. The Standard Edition of WIDI Recognition System is available for those who do not require the advanced TrueTone Editor tool found in the Professional Edition. However, it still includes features such as transposing MIDI files and replacing the musical instrument being used with another one.

WIDI Recognition System also supports Recognition Presets which can be created by users or are already predefined for different types of music. Drum tracks can even be transcribed with this program. A Recognition Wizard is also included to help users get started and achieve results in just a few moments after the initial start-up. Whether you are an amateur or a professional, WIDI Recognition System is the perfect tool for transcribing and arranging music compositions.
What's New
Version 4.5: Automated transcription is now much faster for Euclid algorithm. Audio playback at 50% speed without pitch change is now available. Added support for reading 24 and 32 bit Wave files.