WiFi2Hotspot is a free virtual router creator for Windows 7, 8 and 8.1 computers that allows users to easily create a WiFi hotspot and turn their laptop into a WiFi router. With its user-friendly interface, creating a WiFi hotspot has never been easier.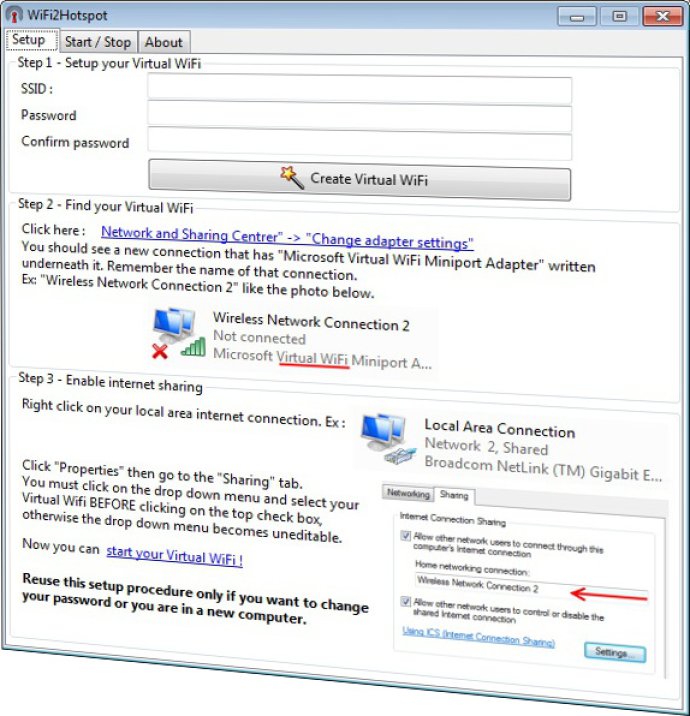 WiFi2Hotspot is an incredible software that allows you to create a WiFi hotspot using your laptop, effectively turning it into a WiFi router. This virtual router creator is absolutely free and extremely easy to use. It is designed to work seamlessly with Windows 7, 8, and 8.1 computers.

What makes WiFi2Hotspot so reliable is that it enables the user to share any Internet connection wirelessly. This could include a DSL modem, a cable router, or even another Wi-Fi network. Additionally, other Wi-Fi enabled devices, such as laptops, smartphones, mp3 players, and gaming consoles, can easily detect and join your Wi-Fi hotspot, just as they would with any other Wi-Fi access point.

With WiFi2Hotspot, you don't have to worry about any secret installers or undesired additions to your system. The software is small, portable, and free of any unwanted bloatware. Moreover, your generated hotspot is secure, protected by WPA2-PSK encryption, which guarantees that all your data is kept safe and private.

To sum up, WiFi2Hotspot is an extremely useful tool that provides you with a hassle-free way to create a WiFi hotspot on your laptop. It is user-friendly, secure, and works with a multitude of devices. If you're looking for a way to share your internet connection easily, then WiFi2Hotspot is definitely worth checking out.
What's New
Version 1.0: New release