Wine Organizer Deluxe software lets users organize and manage their wine collections on their computers. Ideal for collectors, clubs, and cellar owners, this program offers complete cataloging capabilities.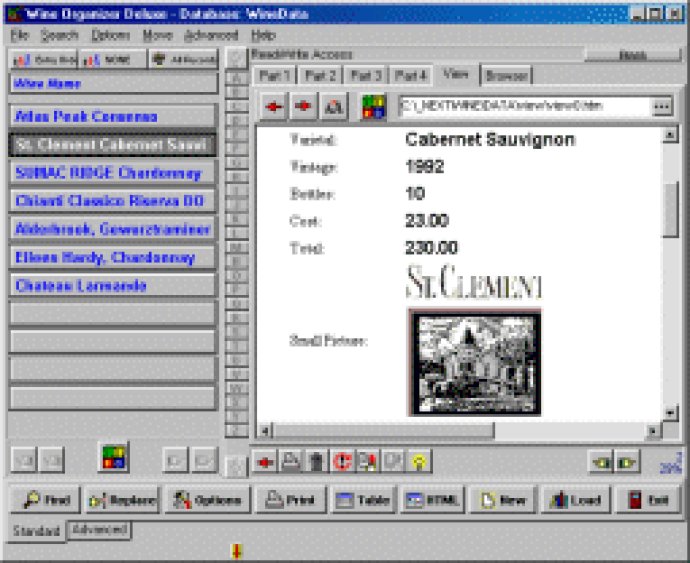 If you're a wine collector, hobbyist, wine club member, or cellar owner looking for a software solution to organize and manage your wine collection on Windows, Wine Inventory Software is definitely worth checking out.

One of the main selling points of this software is its user-friendly interface and ready-to-use inventory solutions, ideal for novice users trying to get started. However, the software is also flexible enough to offer advanced features for more experienced users.

With this wine database management software, you can easily enter your data with record templates and access your wine collection information in a variety of ways. Whether you need simple or complex wine reports, want-to lists, wine labels, web catalogs, or lists for sale, Wine Inventory Software has got you covered.

In addition, the software includes a variety of other database management features such as a print report wizard, print label wizard, customizable document printing, password protection, sorting, simple and complex filtering, export/import capabilities, summary/graphs, copy/paste record options, record entry templates, and copy/move record(s) to another database. There's no limit to the number of records you can add or wine catalogs you can create and manage.

Finally, for those still undecided, the software comes with a 30-day money-back guarantee, so you have nothing to lose by giving it a try.
What's New
Version 4.11: improved print reports, new web help topics, new database templates, print labels templates, database designer