ACDSee Pro 4 is a comprehensive photo editing and management software for digital photographers. It is a must-have tool for professionals who rely on advanced features for their workflow.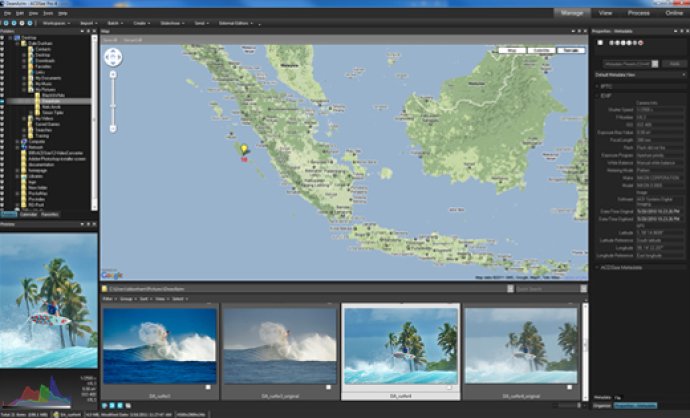 If you're looking for a photo management tool that truly gives you control over your images, ACDSee Pro 4 is the perfect choice for you. With this software, managing, viewing, editing and publishing your photos is a breeze. What's even better? The entire process is faster than ever before!

One of the most compelling features of ACDSee Pro 4 is its patent-pending single exposure HDR technology, which allows you to achieve post-production perfection like never before. Organizing your library has never been easier, thanks to the extensive metadata and sorting features. With dynamic pixel-level editing tools, you can fine-tune each image to your liking.

ACDSee Pro 4 offers immense workflow flexibility, quick navigation, and all-around organization. This means that you'll spend more time behind the camera, capturing stunning shots that speak volumes. Its customizable cataloging capabilities, unrivaled viewing speed, and powerful photo editor make it a popular choice for professional and advanced amateur photographers worldwide.

The software comes loaded with features that will elevate your photography game every step of the way. With improved RAW processing, a complete set of metadata tools, single exposure HDR technology, and unparalleled viewing speed, you have everything you need in one place. Take charge of your photography process and notice the difference.

ACDSee Pro 4 is organized into four modes to mimic the way photographers work with their images: managing, viewing, processing, and distributing. Making this software the hub of your photography will save time every step of the way, from image import to RAW conversion to final print and distribution.

In conclusion, if you're looking for a complete photography editing and managing platform, you can't go wrong with ACDSee Pro 4. It's fast, feature-packed, and designed to give you complete control over your images.
What's New
Version 4.0.237: Improved RAW contrast, color, exposure, Full IPTC Core 1.1 support, metadata panel, Map geotagging, Vignette correction, Chromatic aberration and defringe correction, Improved control over the processing workflow, Auto-upload photos