This software allows you to effortlessly convert multiple images between over 30 file formats, including JPG, PNG, and TIF. It also includes more than 120 actions and effects to enhance your images.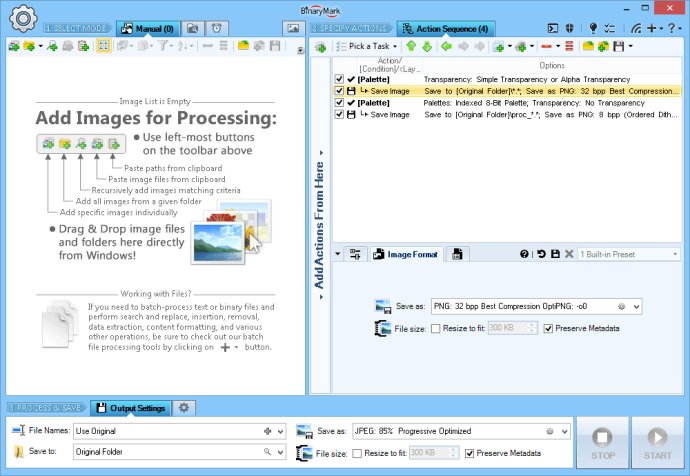 If you're looking for powerful image conversion software, look no further than this solution. It can convert images, photos, and pictures between over 30 different formats, including JPG, PNG, GIF, TIFF, BMP, and more. You can even control the encoding options, such as quality, compression, dithering, palette, bit depth, and quantization.

This software also shows you a preview of the image and output file size, so you can make sure you're getting exactly what you want. Additionally, it supports lossless JPEG rotations and crops.

Beyond image conversion, this software boasts over 120 actions and effects to help you resize, contrast, add watermarks, and more. It also includes conditional processing based on image orientation, size, and other attributes, as well as four different operation modes: manual, background, scheduled, and console.

Customize output file names with dynamic tags, and save images to multiple locations with different settings. You can even work with metadata, such as EXIF, IPTC, GPS, and XMP.

This software supports full 32-bit images with alpha channels and fast parallel processing on multi-core CPUs. You can even rename image files based on image or file properties and EXIF/IPTC metadata.

Other features include automatic crop, crop to fixed size, crop from edges, crop to a specific width-to-height ratio, color adjustments (brightness, hue, saturation, tint, and exposure), artistic effects (oil paint, pencil sketch, and mosaic), and creative effects (pixelate, vignette, and frost glass).

You can also add static or dynamic text and image watermarks with visual effects, rotate and flip manually or using EXIF orientation tags, and work with layers with over 40 blending modes and pixel filtering.

Choose from 20 different scaling modes, resize the canvas and add padding, and change print resolution to meet your needs. You can also set dimensions using pixels, percentages, or print units. And if you need to shrink images to fit a specific file size, this software can do that automatically, too.

Finally, you can process each color channel individually, extract, mix, replace, and adjust values to your liking. This software supports eight color models: RGB, HSB/HSV, HSL, HSI, HWB, YCbCr, Lab, LCH. Overall, this image conversion software is a powerful tool for anyone who needs to work with images frequently.
What's New
Version 5.5.5: This is a new release with latest updates and fixes