This software calculates ink or toner coverage on a page before printing as a percentage, which is often described by printer manufacturers as the number of A4 pages with 5% coverage.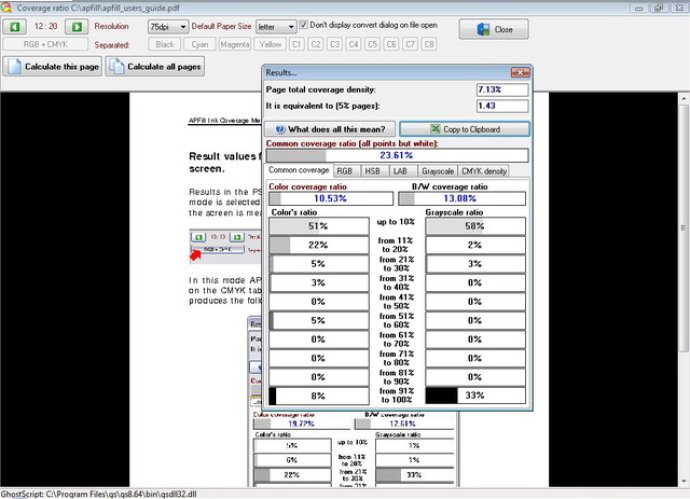 This software simplifies the calculation of ink and toner coverage before printing. Printer manufacturers usually specify ink usage as the number of A4 pages with 5% coverage. With this tool, you can estimate the cost of a printed page with decent accuracy.

Key features of this software include measuring color coverage of a selected area on the screen, calculating CMYK coverage of PDF or PS files, and measuring color coverage of pages from a PostScript file (Ghostscript 8.14 for Win32 required). Additionally, this software allows you to measure the perimeter and area of any selected or automatically selected area on the screen. You can even increase the screen area for more accurate measurements and adjust the measuring units to your own preference.

After starting the software, an icon will stay in the Tray Bar, and it works with a variety of operating systems including W95, W98, Me, W2000, WNT, and XP. Overall, this software is a helpful tool for anyone who wants to estimate printing costs and improve ink usage efficiency.
What's New
Version 5.6: N/A
Version 5.4: N/A
Version 5.2: N/A
Version 4.5: N/A
Version 4.4: N/A
Version 4.2: N/A
Version 4.1: N/A
Version 3.8: N/A
Version 3.7: N/A
Version 3.4: N/A