This barcode label maker software for shipping and logistics generates linear and 2D barcode labels with unique parcel identification. It helps create a Barcode List using Sequential, Constant, and Random Series options.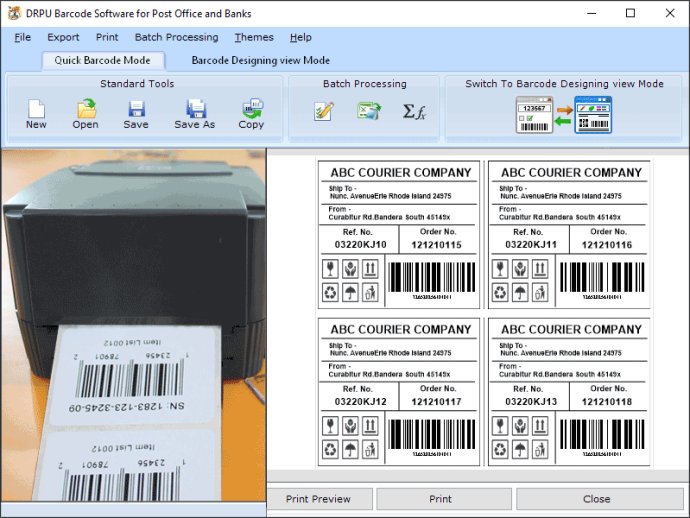 Shipping Barcode Label Maker Software is the ideal solution for creating postal service and logistics barcode labels quickly and easily, thanks to its simple design and user-friendly graphical interface. This software allows users to store their barcode label designs as templates or design logs for future use. It is known for its reliability and compatibility when it comes to producing shipping or postal barcodes. This makes it easy to automate the tracking and management of parcels, couriers, transportation, etc. without the need for manual control.

In terms of barcode creation, the software provides advanced features such as Quick Barcode Mode and Barcode Designing View Mode for designing and creating barcodes of different values. Quick Barcode Mode enables users to generate barcodes of various font types. The software supports a range of linear and 2D barcode fonts including Code 11, Code 128, Code 128 SET A, Code 39, Code 93, Code 39 Full ASCII, Planet, Post net, MaxiCode, MICR, etc.

The software also supports batch processing series, which allows users to import excel data sheets and text files to generate multiple barcode tags quickly and easily. This feature is perfect for those who need to generate a large number of barcode tags for their business.

Another unique feature of the Postal Barcode Label Maker program is the ability to save created barcode tags or labels in different file formats like JPEG, TIFF, Bitmap, PNG, WMF, EMF, EXIF, GIF and PDF. This makes it easy to share and distribute barcode labels across different platforms and applications.

Overall, the Shipping Barcode Label Maker Software is a versatile and reliable solution for anyone who needs to create shipping or postal barcode labels quickly and easily. Its user-friendly interface and advanced features make it an excellent choice for businesses and individuals alike.
What's New
Version 9.2.3.2: Added Support for Latest Windows 11 OS Updates. Added Support for High DPI resolutions Compatibility. Added new Barcode Technologies. Added additional Batch Processing Features to import Data from Excel Sheets.