This software offers a wide range of tools to enhance photography. Users can adjust brightness, contrast, saturation, and color balance, as well as resize, crop, sharpen, and watermark images. With over 120 effects and filters, images can be transformed into stunning works of art. It also supports 30+ image formats for easy conversion.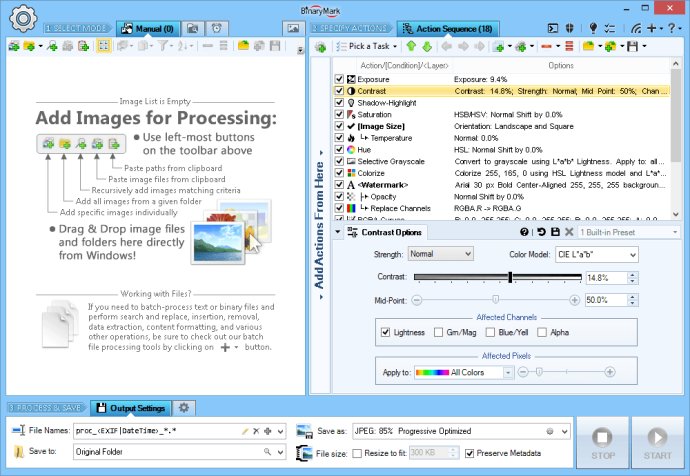 The image editing software is an exceptional tool that boasts more than 120 adjustments, effects, actions, and filters. With this software, you can turn average pictures into great images easily. You can adjust the HSL and RGB color corrections, contrast, saturation, brightness, exposure, and 30+ other characteristics. The software is made perfect with its advanced features that improve your image quality by sharpening, noise reduction, and auto-levels filters. You can apply creative effects and resize, crop, watermark, and convert images between / save in 30+ image formats effortlessly.

The software comes with additional features like a built-in image preview with interactive histograms and layers with 40+ blending modes and pixel filtering. You can convert to/from and save the results in any of 30+ formats like jpg, png, gif, tiff, bmp, j2k. Conditional processing based on image orientation, size, and other attributes can come in handy at times. The software is categorized into 4 operation modes: Manual, Background, Scheduled, and Console, making it easier to work with.

The 20 scaling modes, including Lanczos, Bilinear, Bicubic, Box, HqX, allow you to rotate and flip manually or use the EXIF orientation tag. You can fit to a fixed or rectangular size, and perform lossless JPEG crops, flips, or rotations. The software includes automatic crop, crop to a fixed size, crop from edges, crop to W:H ratio, change width and height independently or proportionately easily.

This software even shrinks images to fit a desired file size in Kilobytes, which is quite helpful. The per-channel processing makes it easy to extract, mix, replace, adjust values, etc. Also, the software has 8 Color Models like RGB, HSB/HSV, HSL, HSI, HWB, YCbCr, Lab, LCH. The software even has visual effects, allowing you to add static and dynamic text and image watermarks, multiline text watermarks with various fonts and styles, dynamically generate text watermarks with EXIF and file info, and with 12 compositing modes: source-over, source-in, source-out...40+ Blend Modes: lighten, darken, contrast, inversion.

The software lets you work with metadata: EXIF, IPTC, GPS, XMP, which can be a lifesaver in certain cases. Similarly, you can customize output file names with dynamic tags and save images to different locations and using different settings. This software is a powerhouse with its fast parallel processing on multi-core CPUs, making it an unmatchable tool in the industry. You can easily rename image files based on image or file properties and EXIF/IPTC metadata.
What's New
Version 5.5.5: This is a new release with latest updates and fixes