This professional software offers over 120 actions, 30 image formats, and 20 scaling modes to resize, crop, shrink, flip, autorotate, resample, convert, enhance and process multiple photos. It also has conditional processing based on image orientation.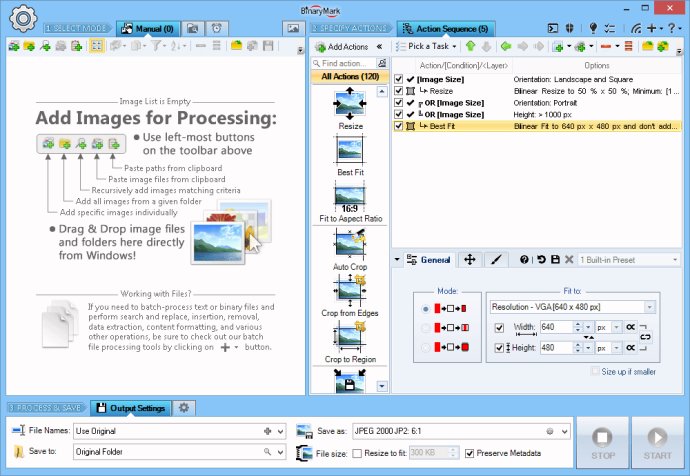 Are you looking for a professional software that can handle all your picture and photo processing needs? Look no further than this amazing tool! With over 120 actions and effects, you can resize, crop, shrink, flip, EXIF-autorotate, resample, convert, enhance, and process any number of pictures.

One of the best features of this software is its ability to convert to/from and save results in any of the 30+ formats, including jpg, png, gif, tiff, bmp, and j2k. You can choose from 20 scaling modes, such as Lanczos, Bilinear, Bicubic, Box, HqX. You can rotate and flip manually or using EXIF orientation tag, fit to fixed size or rectangle; fit to aspect ratio, and perform lossless JPEG crops, flips, and rotations.

You can also automatically crop, crop to fixed size, crop from edges, crop to W:H ratio, resize canvas, and add padding. Additionally, you can change print resolution, and set dimensions using pixels, percentages %, or print units. Automatically shrink images to fit a desired file size in Kilobytes with conditional processing based on image orientation, size, and other attributes.

Add static and dynamic text and image watermarks with visual effects, layers with 40+ blending modes and pixel filtering, per-channel processing, 8 color models, built-in image preview with interactive histograms, and 4 operation modes: Manual, Background, Scheduled, and Console.

You can use multiline text watermarks with various fonts and styles, dynamically generate text watermarks with EXIF and file info, use picture watermarks to add visual attractiveness, 12 compositing modes, 40+ Blend Modes, customizable image format options, work with metadata, and customize output file names with dynamic tags.

Save images to multiple locations and using different settings, enjoy fast parallel processing on multi-core CPUs, and rename image files based on image or file properties and EXIF/IPTC metadata. All in all, this is a complete software package that offers everything you need to process your pictures and photos with ease.
What's New
Version 5.5.5: This is a new release with latest updates and fixes