This software offers four leading browsers, four search engines, and about forty categories for diverse search outcomes. The user selects the preferred browser and search engine, and the program delivers results. A default browser is also included for effortless searches.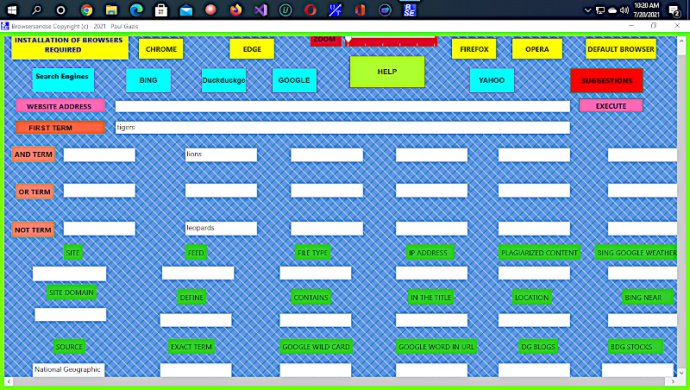 Browsersandse is an excellent software that provides its users with access to four leading browsers, four popular search engines, and around forty search categories to generate multiple results. With this software, you do not need to re-enter the search terms repeatedly. Simply select the browser and search engine, and the program will take care of the rest. Additionally, if one of the four designated browsers is not in use, the program automatically searches with the default browser.

This software offers a wide selection of search categories that includes searching within a specified domain, searching files by type or IP address, page definitions, location, and much more. A zoom control feature is also added to make websites easy to view, and an English spell checker is included to ensure error-free searching.

Furthermore, the suggestions feature is added to the search options, making the process faster and more accurate. The Address Search Bar also uses default Browsers for easy searching. There are categories for adding many possible entries and search terms (AND, OR, NOT). The pleasing colors of Browsersandse make searching easier, and the program offers a comprehensive Help Screen as a reference for finding and utilizing the software.

Browsersandse is an excellent choice for software that provides easy and fast searching, with support to search over and over again.
What's New
Version 8.2.0.1: Changed Agreement Page.