Free Limewire download is a widely popular peer-to-peer file sharing software with over 280 million downloads. This program is considered to be one of the best in its niche.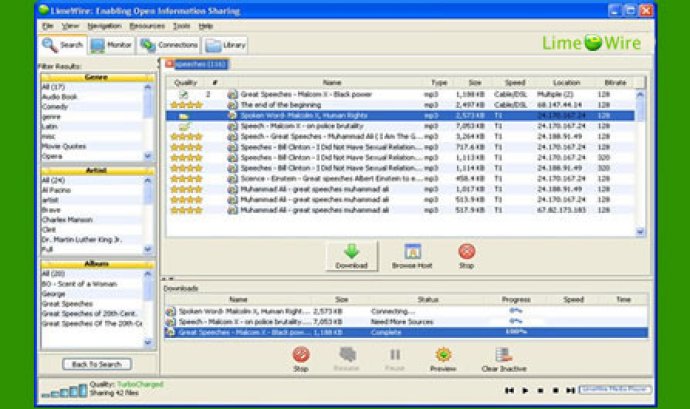 Free Limewire Download is the latest version of the famous file-sharing program that operates on the peer-to-peer platform. Its inclusion of the Gnutella network leverages the Bittorrent plugin, offering users wider file distribution. This software is an excellent fit for users who desire a versatile downloading platform as they are enabled to download any type of file.

One notable aspect of Free Limewire Download is its ability to facilitate fast and reliable downloads. The platform effectively manages various leechers and seeders to ensure that download speeds are not compromised. In addition, users can easily search for their preferred files by specifying the file name, and the program will provide relevant results promptly.

Another vital feature of Free Limewire Download is its ease of use. The user interface is intuitive, making navigation simple and straightforward. Even novice users can quickly understand the program's functions and utilize them with ease.

Overall, Free Limewire Download offers users an excellent file-sharing platform, with advanced features, fast and reliable downloads, and a user-friendly interface. It is an excellent choice for anyone seeking an efficient and effective file-sharing solution.
What's New
Version 5.3: N/A
Version 4.12.8: N/A