Download designated files from an FTP server at set intervals with this tool. Choose the time interval (5-600 minutes) and the old file will be automatically overwritten with the new one. Ideal for grabbing log files regularly.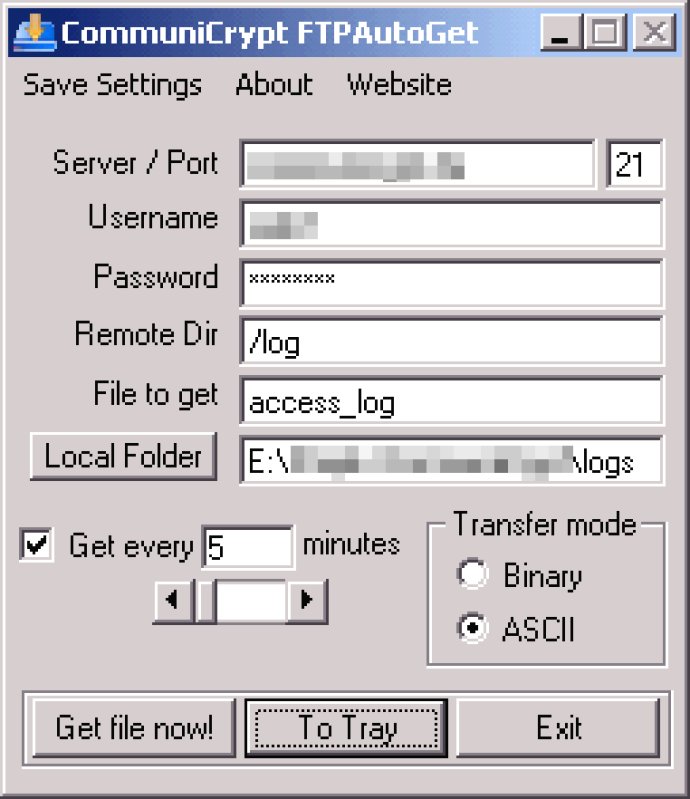 I recently had the chance to try out the FTPAutoGet software and found it to be a very useful tool for anyone who needs to download a designated file from a FTP-server at designated time intervals. This software allows users to set time-based intervals, so that they can download files from their FTP-server every 5, 10, or any other number of minutes in-between these, up to 600 minutes.

One of the most notable features of this tool is that the old file will be overwritten by the new one, thus making it very easy to keep track of files as they are updated. Setting up the software is straightforward; users simply need to enter their login information, the remote directory, the file to download, and the local folder to download to.

Another great aspect of FTPAutoGet is that it can be easily minimized to the system tray, allowing it to work continuously in the background, without getting in the way of other tasks. The software is very user-friendly and doesn't require any complicated configurations or settings to get started; simply choose the desired interval and let it do the rest.

Overall, I found FTPAutoGet to be a very effective and easy-to-use tool for downloading files from FTP-servers, and I would definitely recommend it to anyone in need of this type of software. One thing to note, however, is that it does require VB6 Runtime to work properly, so be sure to have this installed beforehand. Best of all, this software is completely free, making it an ideal solution for anyone on a budget.
What's New
Version 0.5: N/A