CutLogic 1D is an efficient software solution for businesses, offering linear material nesting and cutting optimization. With the ability to generate optimized cutting layouts, it streamlines operations and minimizes material wastage for various materials including cables, bars, pipes, profiles, and more.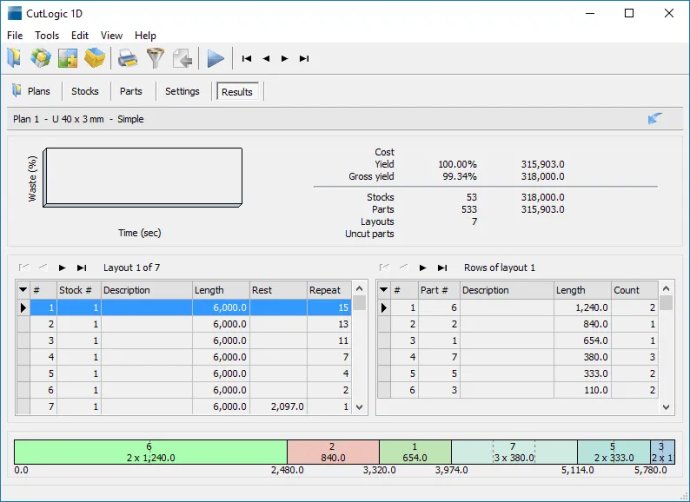 CutLogic 1D is a highly efficient software that specializes in length cutting optimization. It is a remarkable tool that has the ability to save time, labor, and materials in a variety of manufacturing industries such as woodworking, furniture, steel, construction, engineering, fabrication, window fashions, and more. This exceptional software is designed specifically for linear cutting of materials like pipes, bars, rods, tubes, wires, profiles, cables, and others. It can work with a wide range of materials including wood, steel, aluminum, plastic, and more.

One of the standout features of CutLogic 1D is its ability to quickly compute optimized cutting layouts in a matter of seconds. The software has a strong emphasis on cost-driven optimization, allowing you to prioritize and define the cost of the sources you are using for optimization. It also includes inventory management features, allowing you to manage both full materials and remnants inventory (reusable rests). Additionally, it supports cutting from multiple sources, making it highly versatile for different scenarios.

The software also includes an inventory assembly feature, which allows you to define multipart products within your inventory. It utilizes a remnant rate parameter to control the production of remnants. CutLogic 1D is incredibly versatile, able to handle even the most complex cutting cases with support for up to 1 million sources and 1 million parts per optimization plan. It supports both metric and fractional length formats, including 9.99, 3'-3.99", 8'-3 63/64", and 99 3/32".

CutLogic 1D features extensive cutting settings, including options for cutting blade width (kerf), trim cut, gripping, rubbing, minimal repeat of layout, and more. The software prioritizes security and reliability, utilizing a true SQL database (Firebird) for data protection, security, backup, crash recovery, and more.

In terms of reporting, CutLogic 1D comes with a wide range of predefined standard report and label templates. These templates can be edited using the embedded report designer, allowing you to customize fields, fonts, functions, barcodes, and more. The software also supports export to various file formats including CSV, TXT, MS Excel, PDF, RTF, HTML, XML, ODT, ODS, and import from TXT, CSV, MS Excel, MS Access, clipboard, and connection strings (MySQL, Oracle, Firebird, MS SQL Server, etc.).

The software also includes enhanced data sorting and filtering capabilities, providing better information organization on the screen. It has an optiRefine feature for intelligent refinement of optimization, which allows you to prioritize waste, work, and remnants usage.

In conclusion, CutLogic 1D is a robust, reliable, and steady optimization software that can handle any cutting case. It is also available as ActiveX Control Engine Library, making it highly flexible for integration with other systems.
What's New
Version 5.7.2: Improved cutting optimization
Version 4.7: Full support for Unicode - data now can include any language specific characters
Version 4.31: Enhanced optimization, database, reports, imports and exports, inventory, and more