IDAutomation offers custom functions to create Filemaker barcodes, which can be easily distributed by embedding them in the database. The installation of corresponding IDAutomation barcode font is the only requirement for rendering the barcodes.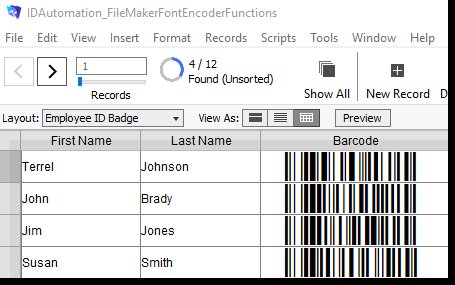 Looking for a solution to create Filemaker Pro 1D barcodes quickly and easily? IDAutomation's custom barcode functions can be seamlessly embedded right into your Filemaker database for streamlined distribution.

The best part? Installation is a breeze - all you need is the corresponding IDAutomation barcode font for the barcode to render correctly. Whether you're using a Mac or Windows (32 & 64 bit) version of FileMaker Pro 12 or above, this solution is compatible and ready to go.

With a wide range of barcode functions available, including Code 128, GS1-128, Code 39, Interleaved 2 of 5, Code 93, MSI Plessey, Codabar, UPCA, UPCE, EAN8, and EAN13, you'll have plenty of flexibility to create the perfect barcode for your needs.

Finally, the encoder is completely free to use - all you need to do is purchase the IDAutomation barcode font. So what are you waiting for? Streamline your Filemaker database with powerful, embedded barcode functions today.
What's New
Version 2023: Updated FileMaker Font Encoders
Version 2015: New Release