Pulkitsoft's Digital Signer software provides fast and interactive digital signature capabilities for PDF documents using USB tokens, PFX files, X.509 certificates, and hardware devices.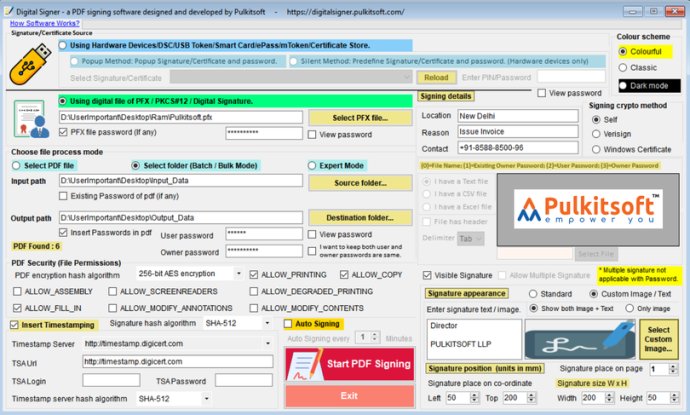 Digital Signer is a reliable and effective software that allows you to digitally sign PDF documents using X.509 digital certificates, pfx files, USB tokens, and hardware devices. This digital signature software provides a quick and efficient way to sign single or multiple PDF files in batch mode. This is particularly useful for companies that need to sign a large number of corporate documents, preventing the need to sign each one individually.

Digital Signature software ensures the protection and prevention of tampering on a wide range of documents, including personal, official, invoice, bills, tax forms, business contracts, legal documents, and any other vital information that requires security. With high-grade security that prevents file editing, tampering, and fraud, your documents become permanently uneditable, giving you peace of mind.

Digital Signer comes with an array of features such as Expert Mode (Bulk Import Password Against Each PDF File), Import Microsoft Excel File, Import CSV File, Import Text File (Use Any File Delimiter), Auto Signing (Insert Signature Without User Intervention) and Set Own Timer Interval. Moreover, Digital Signer has improved its Dark Mode and its easy-to-use Ui, with a fresh and user-friendly interface. The new help section and support section come with video tutorials and web tutorials, Sample Test PDF Files for Download, and Test Yourself.

In terms of functionality, Digital Signer supports signing via USB card or PFX file, encrypting your input PDF files, and decrypting output PDF files. The software also has a secure, trusted Timestamping and the option for an invisible signature, along with Time Stamping on the signature, SH1 algorithm support, and Batch Mode (to work on the folder).

Digital Signer also allows for multiple signature options, various signing methods, and free version updates. Moreover, it's fully Adobe compatibility, providing you with the assurance that this software will always work seamlessly with other trusted programs.

Overall, Digital Signer is an efficient and reliable way to protect your documents from tampering, signing quickly and efficiently with a user-friendly interface.
What's New
Version 17.0.0: - Timestamping support for hardware devices.
- PAdES signature levels.
- Minor bug fixing.
Version 16.0.0: - Minor bug fixes
- Minor UI changes
Version 15.0.1: -Unlimited Signing Templates
-PDF Operations
-Extract Pages
-Merge File
-Delete Pages
-Insert Page
-Customized Signing Date
-Certify Signature
-Customized Signing Location
-Sign All Pages
-Sign Odd Pages
-Sign Even Pages
-Sign First Page
-Sign Last Pages
-Change Signature Direction
Version 14.0.1: - Send Email using Import Excel, CSV, Text File
Version 13.0.1: - Expert Mode (Bulk Import Password Against Each Pdf)
- Import Excel, CSV, Text File
- Auto Signing (Without User Intervention)
- Set Own Timer Interval
- Improved Dark Mode
- Modern Easy To Use User-friendly UI
- Fesh And New Help Section
- Easy Web and Video Tutorials
- Sample Test Pdf
Version 12.1.1: - Predefine Signature/Certificate and PIN / Password
- New notification window
- Detect signature errors
- Save last used settings
- Add enhanced security
- New Progress bar
Version 12.0.1: - Predefine Signature/Certificate and PIN/Password
- New Color Scheme, Dark mode
- Save last used settings
- Add enhanced security
Version 11.9.5: - Color Scheme
- Save last used settings
- All-new fresh interactive user interface