Daminion is a cost-effective server-based photo management software designed for small teams and creative professionals. Users can easily view, edit and annotate digital assets in a secure environment without the risk of losing data.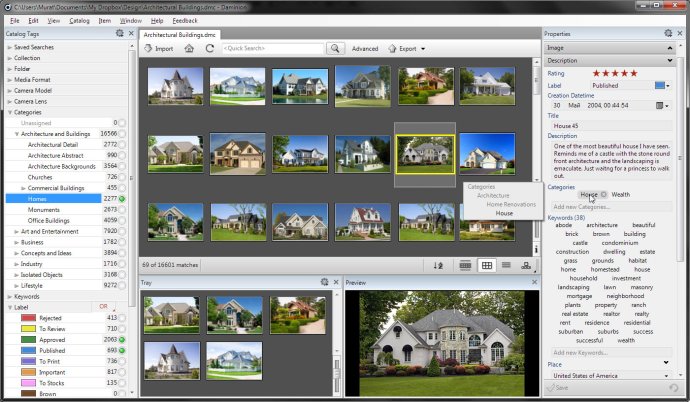 Daminion is a photo management system suitable for small teams and creative professionals that is server-based and cost-efficient. It allows multiple users to easily view, annotate, and edit digital assets without risking loss of information, ensuring that your digital library remains secure from irreparable damage.

One of the main advantages of using Daminion is its affordability for small teams. Unlike hosted solutions, it does not require endless monthly fees; instead, users only pay once. Additionally, there is no need to hire a system administrator or possess specialist knowledge to install and administer the server.

Daminion is much more secure than web solutions, as all content remains within the firewall with restricted access to content by user roles. The software can also work with huge size media archives, up to 500K-1M files per catalog, and includes version control (Check in/out) to avoid redoing work because original versions were lost.

Powered by free, reliable, and widely adopted PostgreSQL database engine, Daminion can import more than 100 formats including Camera RAW formats. Its super simple and clean interface is focused on cataloguing with no built-in fancy image editors and publishing tools; however, it has an excellent bridge to external photo editors like Adobe Photoshop and Adobe InDesign.

The software also makes it easy to quickly classify and filter your content by tags using AND, OR operations. It supports complex hierarchical tags with no limitations on nesting levels, allowing users to describe their content precisely and spend less time locating important files.

Daminion can even write metadata into Camera RAW formats, including CR2, NEF, DNG, ARW, MRW, PEF, without creating xmp sidecar files. Unlike other content organizational tools, it correctly writes and reads hierarchical keywords from/to IPTC/XMP, ensuring that hierarchical structures do not lose data when exported or moved. Overall, Daminion is an excellent choice for small teams and creative professionals looking for a reliable, cost-efficient, and secure photo management solution.
What's New
Version 2.5: -Added Batch Renaming. Files can be renamed according to a renaming template
-Improved Export. Protect your exported images from unauthorized usage by stamping them with a watermark image that contains your copyright and logotype
-Creating Contact Sheets
-Exporting to PDF
-30 other improvements