Dave Gnukem is a 2D platform shooter game available for Windows, Linux, macOS, OpenBSD, MorphOS and other platforms. It is inspired by Duke Nukem 1 and offers a parody of the classic game rather than a clone or remake.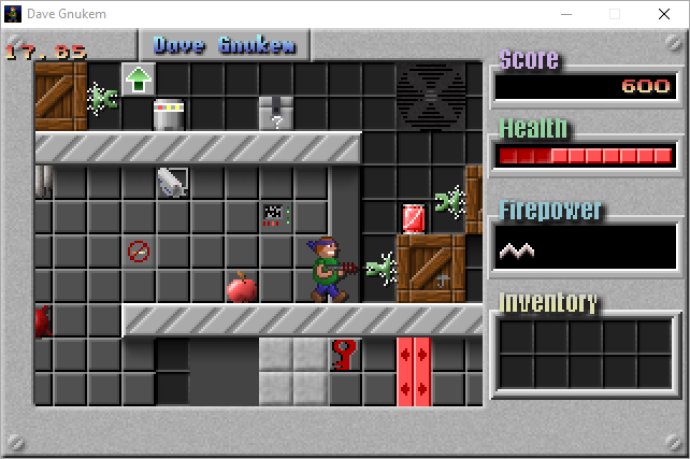 Dave Gnukem, a retro-style 2D scrolling platform shooter, is the perfect ode to the famous classic game, Duke Nukem 1, initially launched in 1991. This addictive game can be accessed on various operating systems, including Windows, Linux, macOS, OpenPandora, MorphOS, OpenBSD, ClockworkPi GameShell, and more. It's not exactly a clone or remake, but a parody that fails to tickle your funny bone. If interested, developers can access the source code.

The game's storyline depicts the year $CURRENTYEAR+8, where an evil genius, Dr. Proetton, releases a virus dubbed SystemD, which infects computers worldwide, crippling them. As the only hope to save the planet, you must begin your quest to find the floppy disk containing the Devuan Antivirus and install it on the master computer hidden in Vault7. Any resemblance to actual persons or entities is coincidental.

In a nutshell, you must shoot anything that moves, but the game's features are more than mere gunfire. Developers have ensured that Dave Gnukem is now crash-free and equipped with nostalgic remnants of technology that nobody uses anymore. Additionally, its development time was almost equal to Duke Nukem Forever, and it comes with detectors to correct wrongthink. The game has various gamespaces, including teleporters and conveyor belts that increase the thrill. Its operation system is well protected with arcane-command line parameters, ensuring your computer remains secure.

Despite its retro-style, Dave Gnukem delivers a surprisingly bearable 18 frames per second and contains something resembling a cannon on wheels. You don't have to worry about privacy invasion since the software doesn't spy on you. Additionally, the game features cutting-edge lighting effects that you would expect from 1990. You can conveniently integrate it with SystemD, and it is safe for use even during pregnancy. Other exciting features include red balloons, bugs older than your children, an integrated level editor, and fans that blow you.

Furthermore, Dave Gnukem's extra-retro simulated EGA/CGA settings will bring back the '90s nostalgia, and in case you're not satisfied, you get a money-back guarantee. Interestingly, you get to experience walls and floors, unlike any other game available in the market. Give Dave Gnukem a try and enjoy this classic throwback to the shooters of the early 90s.
What's New
Version 1.0.1: New extra-retro settings to simulate EGA and VGA displays (you'll feel like you're in the 90s again or your money back)