Metamorphosec German Flashcards is a Windows-based language learning software featuring over 1900 vocabulary items. It offers two play modes--training and testing--to facilitate German language acquisition via flashcards.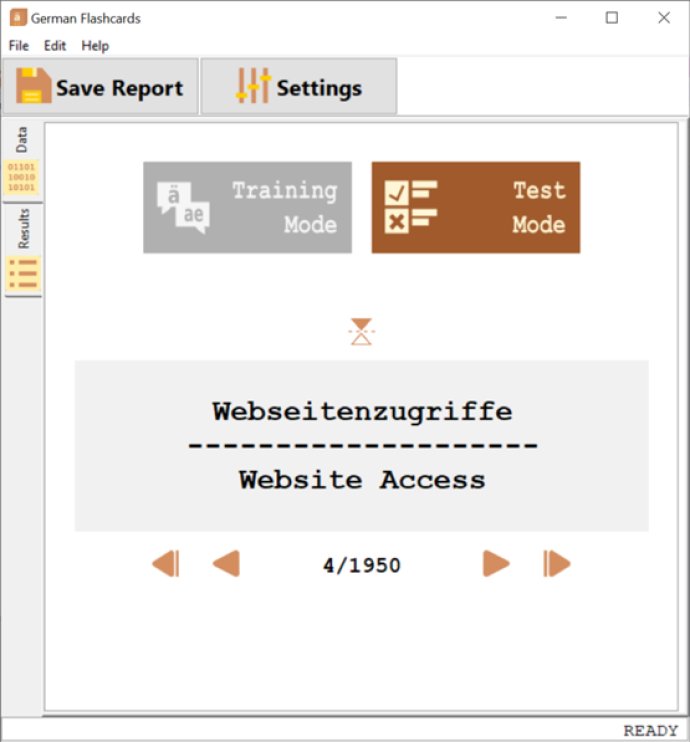 Metamorphosec German Flashcards is a fantastic tool for anyone wishing to learn the German language through flashcards on their Windows platform. It offers two distinct modes of play, namely Training Mode and Test Mode, both of which are designed to enhance the user's language learning capabilities.

Through the Training Mode, users can familiarize themselves with a wide range of German vocabulary, with access to over 1900+ words. Once users have become confident in their vocabulary, they can progress to the Test Mode, where they can challenge themselves further. Users can choose to set a higher Passing Grade if they want an even greater challenge.

However, there are some limitations to the UNREGISTERED version of the program. For instance, it's only for Personal Use and only allows the user to save reports to the Saved Documents folder on desktop. Furthermore, the number of questions is limited to a maximum of 100 vocabularies, with each question containing 15 characters only. The Settings function is also disabled. The best way to gain full access to the program's features is to purchase a License Key.

Overall, Metamorphosec German Flashcards is an excellent language learning software that's sure to help any aspiring German speakers develop their knowledge and proficiency in the German language.
What's New
Version 2.0.0: https://metamorphosec.com/Files/Changelog/changelog_metflde.txt