This excel text deleting software lets you remove text from multiple cells by specifying criteria. Choose a cell group and make the desired modifications effortlessly.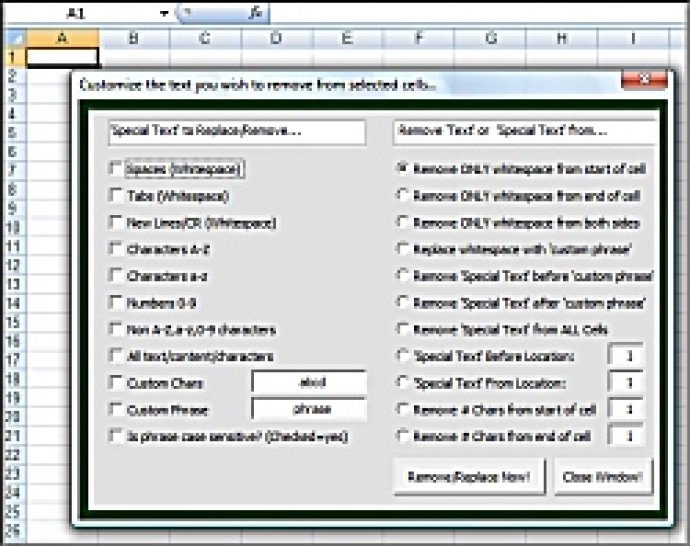 This software is a game changer for those looking to modify and remove text in Excel quickly and easily. With its user-friendly interface and powerful features, it takes the hassle out of tedious data manipulations.

One of the best features of this software is the ability to select a group of cells and apply text modifications to all of them at once. This saves a tremendous amount of time and effort, especially when dealing with large data sets.

This software also allows you to remove special text such as whitespace, tabs, and new line/carriage return characters from multiple cells. Additionally, you can choose to remove specific types of characters, such as uppercase/lowercase letters, numbers, and non-alphanumeric characters. You can even remove all text characters if needed.

The ability to specify 'where' the text should be removed from is another standout feature. Users can specify whether they want to remove text from the beginning or end of cells, or from the entire selection of cells. There is even an option to remove 'phrases' before and after custom text phrases.

Users can also specify the location to start removing text from in MS Excel cells, as well as the character locations and how many characters to remove. With all of these tools at your disposal, manipulating and removing text in Excel has never been easier.

Overall, this software is an essential tool for anyone who works with data in Excel. Its intuitive design and powerful features make it a top choice for professionals and casual users alike.
What's New
Version 9.1: Not Applicable