This tool enables remote directory server fingerprinting to determine the type of server technology running on a system. It provides a quick and efficient way to gather information about remote directory servers, reducing the risk of security breaches.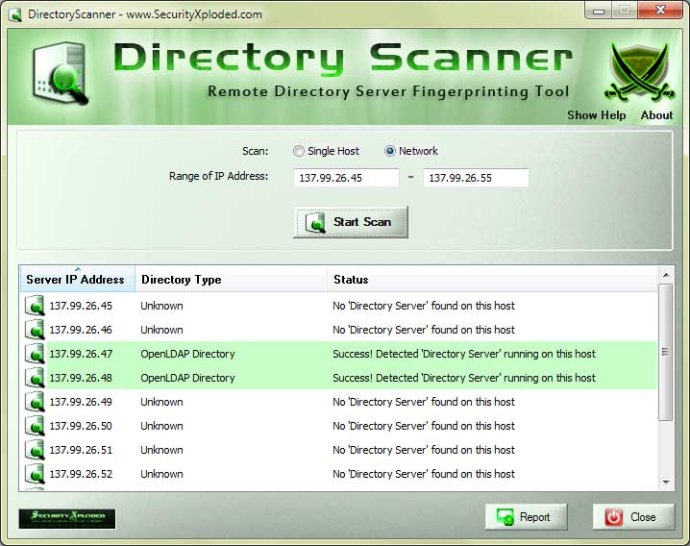 As a free directory server fingerprinting tool, Directory Scanner is an essential piece of software that can remotely detect the type of directory servers being used on both local networks and the internet. It is particularly valuable when it comes to penetration testing where client environments with multiple directory servers are involved. In many organizations, directory servers are used to store important data that includes employee authentication information. Therefore, poorly configured directory servers can often be a gold mine for pentesters. That being said, this program is also very useful for administrators who need to remotely keep tabs on directory servers running on their network.

This tool can be used to scan multiple systems in a network to detect several popular directory servers including Novell eDirectory, Microsoft Active Directory, Open LDAP Directory, Sun One Directory, Netscape Directory, IBM Lotus Domino, Oracle Directory, and OpenDS Directory. Moreover, the program is capable of generating detailed scan reports in HTML/XML/TEXT/CSV format for further analysis.

The installation is incredibly user-friendly thanks to an installer that helps with both the installation and uninstallation of the software. What's more, the Directory Scanner software is compatible with both 32-bit and 64-bit platforms, starting from Windows XP up to the latest operating system, Windows 10. If you are looking for a dependable, free software tool to aid in directory server fingerprinting, then Directory Scanner is the way to go.
What's New
Version 5.0: Major 2016 edition support directory server scanning from Windows 10 platform. Also fixed auto resizing issue, added new installer.