EarthTime is a software that shows the local time and date of any location worldwide. It includes a database of over 120,000 cities and allows users to add custom locations. The software also features alarm settings based on any city's local time.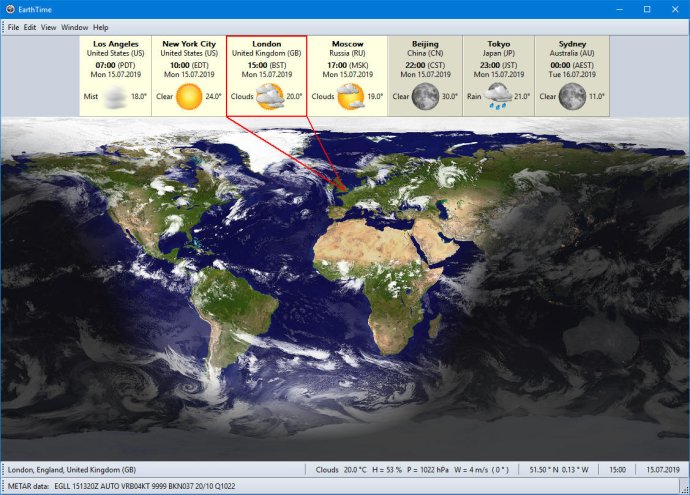 If you're looking for a reliable software that displays the local time and date of any place on this planet, EarthTime is the one for you. With over 120,000 cities around the globe already listed in its extensive database, you won't have to worry about manually adding your location. But just in case you do have a custom location in mind, EarthTime allows that too!

Want to stay up-to-date and on schedule no matter where you are? EarthTime's alarm feature is the solution. You can set alarms based on the local time of any city in the world, helping you to stay on top of those important meetings and appointments - wherever you are.

One of the best features of EarthTime is its beautiful map of the earth. This map displays the current day/night areas and the current weather, showing you the exact conditions of your chosen location. The cloud data of the application is updated every three hours, ensuring that it provides accurate information.

EarthTime gives you flexibility and customization options. You can sift through the many options, making the software work seamlessly with your preferred settings. Whether you're a business person who is always on-the-go, a frequent traveler, or just someone who is interested in global times, EarthTime is the perfect software for you.
What's New
Version 5.5.32: Important bug fixes and feature enhancements.
Version 6.22.2: Important bug fixes and feature enhancements.