Manage Your Contacts is a powerful and user-friendly contact management software that enables you to store and manage all contact information with ease. With no learning curve, it provides a hassle-free experience for users.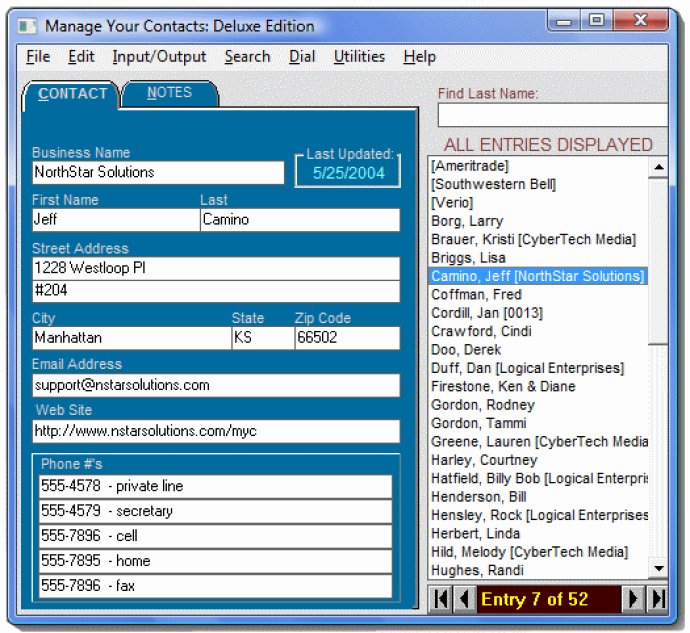 Manage Your Contacts software is an award-winning program that makes the task of storing and managing contact information a breeze. The user interface ensures that there is virtually no learning curve even for first-time users. This powerful program is equipped with a range of features to enable users to efficiently manage their contact list.

One of the most valuable features of Manage Your Contacts software is that it allows users to search, filter and sort contact entries with great ease. The program also enables the user to print to a variety of different popular labels and quickly print envelopes. Other beneficial features of the program include the ability to auto-dial phone numbers using the modem, generating useful reports, and printing mailing and phone lists for easy access.

The Manage Your Contacts software program has an additional feature that allows users to interface with their system's default e-mail client to quickly compose e-mail messages. This makes it easier for users to manage their communication and saves valuable time.

In conclusion, Manage Your Contacts software is a "Reviewer's Pick" thanks to its incredible features and user-friendly interface. It is a must-have for anyone who wants to manage their contacts efficiently and effectively.
What's New
Version 5.3.2.000: Updated graphics to enhance the presentation.