ezW2Correction is an SSA-approved software that enables users to prepare and print corrected W-2c and W-3c forms onto blank paper. It simplifies the process of generating accurate tax forms.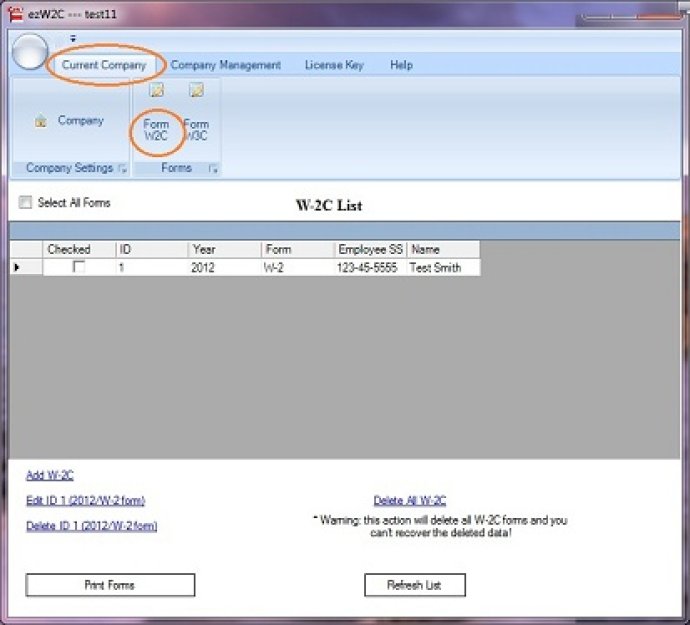 If you're looking for comprehensive software that streamlines W-2c and W-3c form preparation and printing, ezW2Correction might be just what you need. SSA-approved to print these tax forms on plain paper, ezW2Correction also generates recipient copies in PDF format.

Designed with the end user in mind, ezW2Correction boasts a pleasantly user-friendly and intuitive graphic interface. Anyone with basic computer skills and limited accounting knowledge should be able to use it with ease.

Some of the program's most noteworthy features include:

- The ability to print all W-2c forms and W-3c form on blank paper from a laser printer
- The elimination of the need for W2c Copy A and W3c red forms by laser-printing Social Security Administration-approved substitutes on plain white paper
- A focus on simple functionality that requires minimal learning time
- The option to easily save form data for future use and modification
- The capacity to support unlimited accounts, unlimited recipients, and unlimited forms with one flat rate
- The eco-friendly aspect of generating PDF recipient copies
- The affordability: at $39, ezW2 is among the most affordable, full-featured software available for small businesses.

If you're in search of a hassle-free W-2c and W-3c corrected form preparing and printing process at a reasonable price, ezW2Correction is worth your consideration.
What's New
Version 3.3.4: Update for Windows 10