FileInMail monitors specific folders for newly added files and archives them in ZIP format. It then sends them via email to chosen recipients through either an SMTP server or an email client.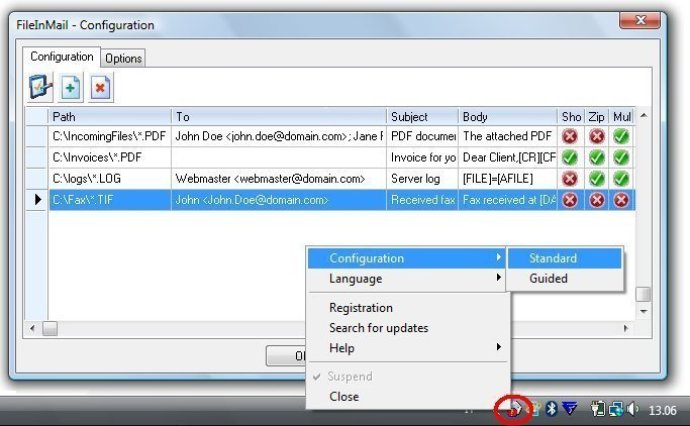 If you're looking for a Windows-based software program that automates the process of monitoring specified directories for newly appearing files, then FileInMail is the tool for you. Once a file appears in a folder you're monitoring, FileInMail archives it to disk and compresses it into a ZIP file. You can then send the file via email to one or several recipients. You can use your own email client program like Outlook or Thunderbird, or an SMTP server. You can also do it with or without user intervention.

FileInMail works on any Windows machine, from Windows 98 to Windows 8/10. Its versatile features include the ability to set up custom email subject and body text for each type of email you send, which can be either dynamically set (by an external program that creates an INI file that FileInMail reads) or kept static.

Other key features of FileInMail include the ability to specify multiple directories to monitor, watch for multiple file patterns in each directory, and send out emails to multiple recipients in a single message. No matter what your needs may be, FileInMail makes it easy to get the files you need to the people who need them without any hassle!
What's New
Version 2.6: 1. Added support for Windows 11;
2. Enhanced support for Windows Server 2016, Windows Server 2019 and Windows Server 2022;
3. Now files to be emailed can even be kept in their original locations rather than archived into a separate folder;
4. Other news at https://www.FileInMail.com/enews.htm;