Get insights into your daily biorhythms with this free calculator. Use it to prepare for exams, job interviews, sports, or dating to ensure success. Master any situation by staying ahead of the game.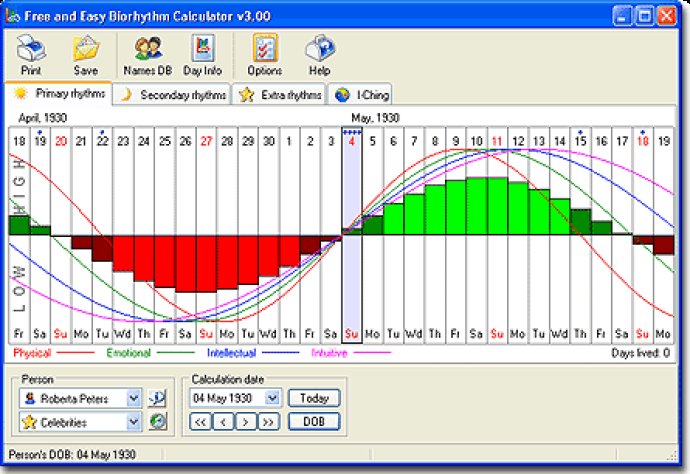 If you are looking for a powerful and easy-to-use application to make personal forecasts, then the Free and Easy Biorhythm Calculator is definitely worth checking out. Based on the western scientific theory of biorhythms, this program also includes additional features based upon oriental philosophy.

Knowing your biorhythms can help you succeed in sports, dating, business, negotiations, exams, or job interviews. This program works like a magic mirror, helping you know the full potential of your capabilities and prevent rash decisions during critical days. With this program, you can be a winner in any situation!

The Free and Easy Biorhythm Calculator is loaded with features, including basic, secondary, and i-ching rhythms, a printable calendar, a personal forecast, and a day info monitor. The commercial version also includes a compatibility test, relationship advices for partners, an advanced matching system, attentive support, and free lifetime updates.

With the Free and Easy Biorhythm Calculator, you will learn to recognize your opportunities and the opportunities of the people around you at any given time. This can help you stay a step ahead of your competitors, resolve any conflict among your staff, and face your future with confidence. Biorhythms can also be useful in family planning, as children conceived during favorable periods in the cycle have a greater chance to get the best of both parents.

By having additional information about people close to you, you will learn to better understand them. This can help you in raising children and strengthening family relationships. Long-term forecasts for your personal life will help you make future plans. Additionally, biorhythms allow you to find out all sorts of interesting things about people around you, from celebrities to your neighbors and your family members.

The Free and Easy Biorhythm Calculator features a friendly interface and detailed documentation, making your work with the program easy and pleasant. Whether you are a beginner or an experienced user, this program is sure to provide you with valuable insights into your life and the lives of those around you.
What's New
Version 3.02: - Extra rhythms: Perception, Psychic and Success were added
- Improved Day Info and reports
- Import/Export names DB for synchronization with mobile devices
- Tips of the day
Version 2.60: - Histogram with adjustable transparency.

- Internet search. Now you can find available pictures and info about any person with one click.

- Fast group switching.