A software that enables users to quickly create school schedules without any complications, providing hassle-free scheduling options.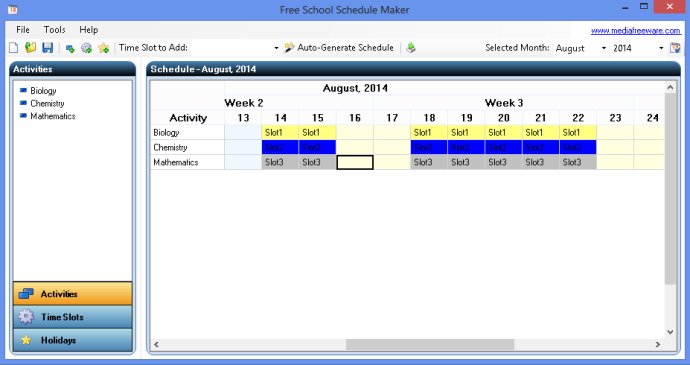 The Free School Schedule Maker is a reliable and user-friendly software designed for students to create and manage their schedules easily. Unlike traditional paper schedules, the digital version created with this app is more organized and easy to comprehend. This free app is incredibly popular due to its simplicity and ease of use.

With a host of features, it is one of the best school schedule makers available. The software is completely free of cost and can be downloaded and used as many times as required. The graphical user interface makes it effortless to use, and all the functions can be put to use with just a few clicks, saving students immense time and effort.

One of the most significant advantages of this app is its safety. It is free of any malware or adware and can be downloaded safely without any apprehensions. It does not compromise the speed and performance of the device, and as it is a lightweight tool, it requires only low to moderate amounts of system resources.

This app is a flexible one and can be downloaded on any device that runs on Windows OS without any additional specifications. The subjects can be colored in a different way, enabling users to comprehend their schedule with just a glance. This tool can be created for a period of one week and starts from early in the morning to late evening.

This app can be created on any MS Office program, making it an excellent functional tool that meets all kinds of checks. The Free School Schedule Maker is an incredible asset to students seeking to organize their schedules effectively, and it comes highly recommended.
What's New
Version 1.0: New Release