Marriage Invites Maker app allows quick design of wedding invitations by either using a wizard or existing designs. It comes with an image cropping tool for image customization during card making.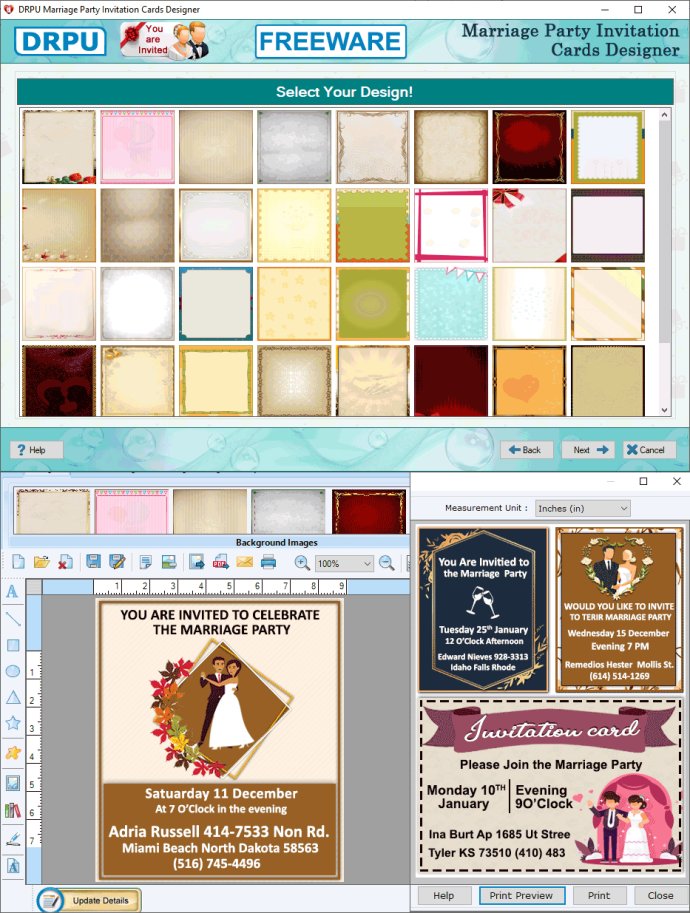 The Freeware Marriage Invitation Card Designer Software is an incredibly useful tool that enables users to create multiple copies of wedding invitation cards. With its batch processing series features, users can design, modify, and manage numerous invitation cards with ease.

One of the best features of this software is its ability to create new cards and modify existing ones using a variety of font, color, and image settings. Additionally, users can choose from pre-existing party themes or customize their own to suit their specific needs. With the wedding details feature, users can easily add relevant information like venue, date, time, and additional details.

The Marriage Party Invitation Card Maker boasts a wide range of tools, shapes, designs, styles, templates, effects, and backgrounds that allow users to create attractive and unique wedding invitation cards. With the Background Property, users can fill in the backgrounds and add images to their invitations.

The Freeware Marriage Invitation Card Creator Software also provides an update details option, allowing users to make any necessary changes to their designed cards. There is no compromise on quality, as users can print higher-quality designed marriage invitation cards, save them in multiple file formats, and even export them as PDF.

The software also includes a feature that enables users to send their designed marriage invitation cards to single or multiple email IDs using an inbuilt email setting feature. With customizable card categories like PVC or paper cards, users can select the perfect orientation to suit their needs.

Overall, the Freeware Marriage Invitation Card Designer Software is an excellent software for anyone looking to create attractive and unique wedding invitation cards. Its many features and customization options make it one of the best software options available for this purpose.
What's New
Version 2.2.0.0: Added Support for Latest Windows 11 OS Updates. Added new Designing Templates. Added additional Batch Processing Features to import Data from Excel Sheets. Added Support for High DPI resolutions Compatibility.