Gin Rummy software offers both Hollywood and Oklahoma variations. Play against a computer or an online opponent. Customize visuals, audio, and game options. Rich UI makes the game enjoyable.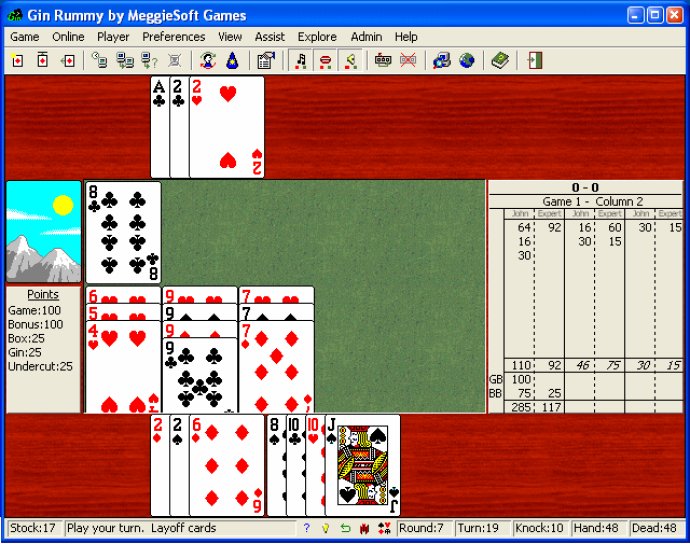 MeggieSoft Games Gin Rummy is a highly comprehensive software implementation of the popular card game, offering both Hollywood and Oklahoma variations. A major feature of the program lies in its ability to allow players to play against both online and offline opponents.

The software has an attractive and highly customizable user interface that includes a plethora of graphics, sounds (including MIDI music and speech output), rules, and scoring options. Additionally, the software has six different skill levels of computer opponents that players can engage with to practice alone or when the internet is unavailable.

Gin Rummy is an intriguing card game in which players try to meld their cards and lay them down as ranking sets or runs. To start their turn, players can take either a new card from the deck or their opponent's discarded card. The game ends when a player reaches 100 points.

The game throws up a variety of rule and scoring options which can significantly affect gameplay, including when to knock (go out) and the number of points awarded. MeggieSoft Games Gin Rummy provides support for Undercuts, Gin Offs, Double Gins, and all other known variations of the game.

The software presents a user interface that is easy to understand and operate. The interface allows players to use either point-and-click or drag-and-drop mouse operations seamlessly. The program's features include realistic animated card movement, right-click pop-up menus, a hint facility, a tutorial walkthrough, automatic play, automatic game save and restore, multiple-user scoreboards, and status-bar shortcut buttons. Players can customize the software's main display font and wallpaper effects. It supports table and playing mat vivid card backs.
What's New
Version 2008: Various