This email client is a fast and sleek option with a fully integrated calendar, task manager, and contact list. Designed specifically for use with Exchange, Office 365, and Outlook.com, it has some unique features and is lighter than traditional Outlook.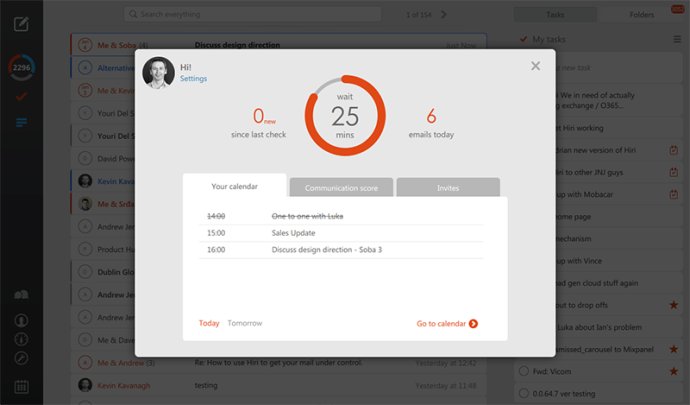 I recently tried out an email client that has really impressed me. This software is fast, visually attractive, and provides some unique and clever features that set it apart from similar competitors such as MS Outlook.

One of the things that really impressed me was how lightweight this software is while still providing all of the necessary features I require. It has a fully integrated calendar, tasks, and contacts making it an all-in-one solution for my productivity needs.

This email client is also built specifically for Exchange, Office 365, and Outlook.com, utilizing Microsoft's own protocol - EWS - which ensures that everything is synced perfectly across all platforms. This came in incredibly handy for me when I needed to switch back to Outlook for a brief period.

In terms of unique features, this software offers a great built-in task-list that is both easy to use and incredibly useful. The ability to drag an email to the right-hand side to make a to-do item is a feature that I have found incredibly helpful in my day-to-day work life.

The software also provides super-fast search options, and allows me to triage my emails using the Action/FYI filters, enabling me to deal with emails using the 4 D's - Defer, Delete, Delegate, and Do.

One of my favorite features is the ability to send emails with actions, and the dashboard and timer that reminds you not to check your email too frequently. I found this particularly helpful as it helped me break the bad habit of constantly checking my email.

Finally, I appreciated the small touch of having the subject line at the bottom of the compose window. This is a great way to encourage users to write more effectively and to ensure that their emails get noticed.

In conclusion, this email client is one that I would definitely recommend. It's fast, efficient, and has some great features that truly enhance productivity.
What's New
Version 0.66: Significant performance improvements and bug fixes.