Keyword Research Tool is an efficient software that assists in finding easily rankable Keywords related to a specific topic. The program provides a comprehensive list of monthly search data, cost per click, and other valuable insights for each Keyword discovered.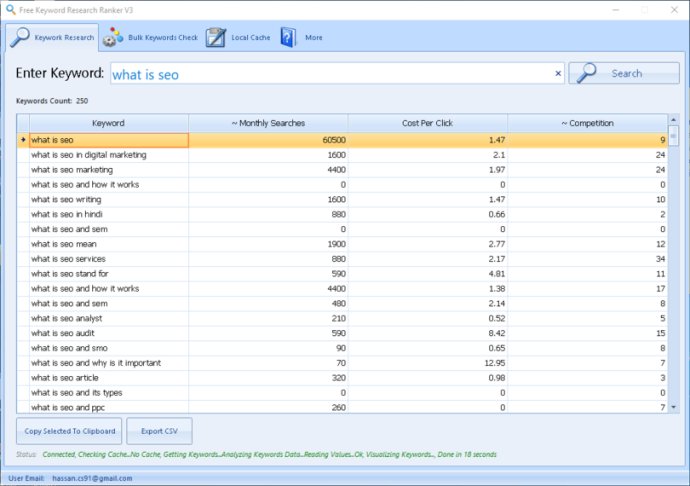 The Keyword Research Tool is a powerful, user-friendly program that lets you discover new keywords with ease. This small, lightweight software empowers you to rank keywords according to a keyword or topic you select. Through the Keyword Research Tool, you will see monthly search data, the CPC, and the competition percentage for each keyword you return.

Using the software is simple: just input a root keyword (such as SEO) and hit the search button. The application will then communicate directly with Google and instantly present up to 10 keywords per search. Within minutes you'll have an extensive keyword list, perfect for search engine optimization, pay-per-click, or any other purpose.

These keywords are the same ones Google suggests to users, proving their value in search engine rankings. The application is also capable of importing large keyword lists. With just one click of a button, you can review all the data for the keywords and select the best one to fit your purposes.

Overall, the Keyword Research Tool is a robust and efficient software that simplifies the keyword selection process, allowing you to focus on other important aspects of your work. Try it today and take your search engine optimization efforts to the next level!
What's New
Version 3.2: Added in-depth Keyword research