NetworkSleuth is a fast network file search tool designed to quickly find files on a network. It supports searching for specific file types or names, such as MP3 files.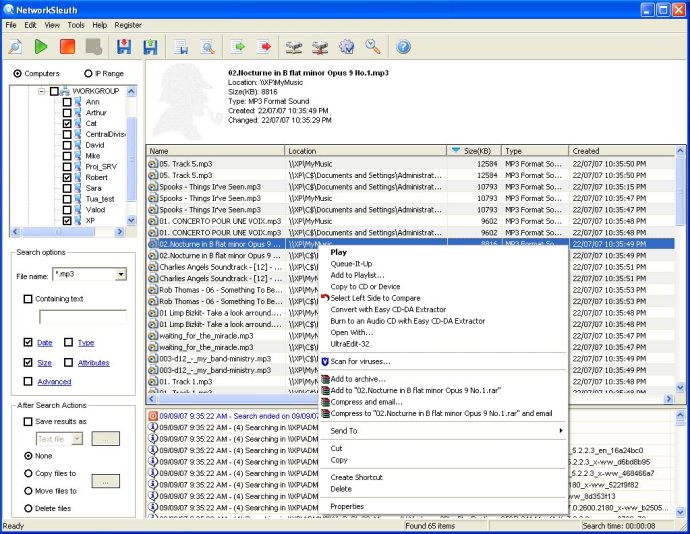 NetworkSleuth is an incredibly useful network file searching utility, designed to help users quickly locate files across a wide network. With this powerful software, you can search for specific files based on their names or types, such as MP3 files, quickly and easily.

One of the key features of NetworkSleuth is its lightning-fast search engine, which makes it possible to quickly locate files across even the largest and most complex networks. It also comes equipped with a variety of advanced search options, including the ability to search hidden network resources, restricted access resources, IP subnets, and much more.

Another great feature of NetworkSleuth is its built-in password manager, which makes it easy to store your network logins for resources with restricted access. With this feature, the software can automatically login to restricted shares using the provided login information, making it easier than ever to access the files you need.

Once you've found the files you're looking for, NetworkSleuth makes it easy to work with them, allowing you to copy, move, and manage them just as if you were working with Windows Explorer. The software also includes additional features such as result sorting, filtering, search within results, minimize to tray, scanning inside zip files, and exporting of results to TXT, HTML, and CSV format.

Perhaps one of the most useful features of NetworkSleuth is its ability to schedule search tasks to be executed automatically. With this feature, you can set up searches to run at specific intervals or times, ensuring that important files are always up-to-date and easily accessible.

All in all, NetworkSleuth is an incredibly powerful and flexible network file searching utility that is perfect for anyone who needs to quickly and easily locate files across a wide network.
What's New
Version 3.0: Updated network file searching