Library Manager simplifies data management for libraries, including book records, digital media databases, and student and staff information. Users can easily generate reports on books, titles, subjects, departments, students, and billing for newspapers and magazines.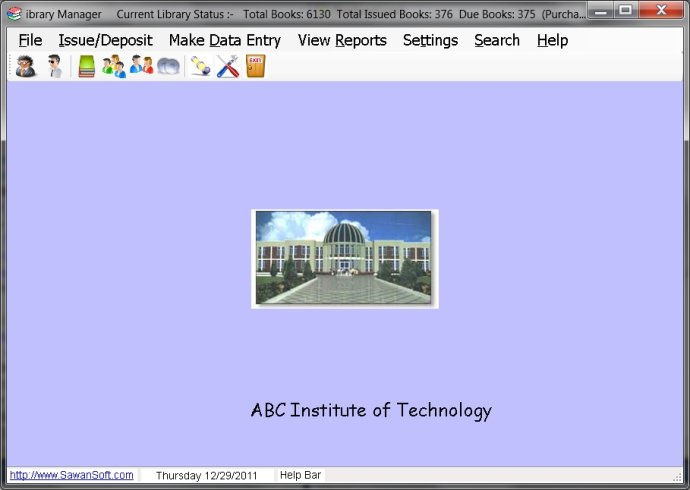 This software is a must-have for anyone looking for a Personal Information System that is easy to use. It has a user-friendly interface that simplifies its use for both students and staff members alike. One of its most useful functionalities includes the ability to arrange and manage books with ease, as well as providing the option to maintain and fine late deposits.

What's more, this software allows you to conveniently back up your library database at any time while providing facilities such as printing various reports. It also enables users to keep track of digital media, magazines, and newspapers in the library, in addition to printing their bill accordingly.

For those of you who need customizable fine settings, this software has got you covered. You can modify the number of books issued as required and issue separate books for staff members. The institution can also be divided into various departments. Complete records of book agencies can be kept, and users can easily issue and deposit books, digital media, magazines, and newspapers.

With various settings, visualization options that can be customized, and email reminders that can be sent with just a few clicks, users have full control over their library management. It also offers the possibility to print multiple barcodes and identification cards, making it a useful tool for library management.

However, it's important to note that the shareware version of the software restricts users to making entries for up to 50 books, 25 students, and 15 staff members. Thus, to make further entries, the full retail version of the software must be purchased.

Overall, this software proves to be a helpful tool for managing library records and resources. Its functionalities are wide-ranging, with everything from customizable fines to the ability to maintain digital media, all in one package. If you want a reliable and easy-to-use personal information system for your library, look no further than this software.
What's New
Version 8.1.0: Foreign Language Support added.
Version 8.0.0: Foreign Language Support added.