IMAP Backup Tool is ideal for securely backing up IMAP emails across numerous file formats and clients. The program boasts advanced algorithms to guarantee successful, attachment-inclusive backups of IMAP mailboxes.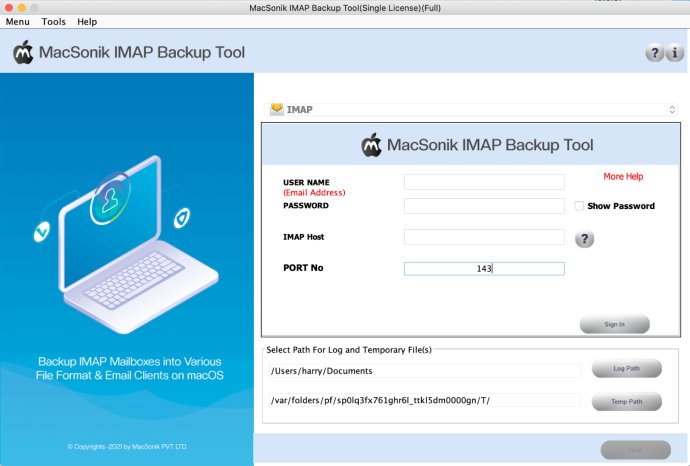 The IMAP Backup Tool is an exceptional software for backing up or restoring IMAP email data files in various file formats. With support for PST, PDF, TXT, MBOX, EML, EMLX, HTML, and more, this utility is among the best options available. Moreover, the software also allows users to migrate mailboxes from IMAP mail accounts to popular email clients like Gmail, Hotmail, Office 365, Live Exchange, and Outlook with ease.

Mac OS users can rejoice in the knowledge that this utility is highly compatible with their operating system and runs smoothly on all available versions. The IMAP Backup Tool makes it possible to restore mailboxes from a single or multiple IMAP emails and directly migrate them into different email clients without any data loss. Users can migrate several mailboxes in a single attempt with high accuracy, ensuring no loss of data. Data integrity is maintained during the entire backup process, so you can rest assured that your important email data is in safe hands.

The software is capable of backing up IMAP account emails on all versions of Mac OS, and users can back up or restore multiple IMAP email data files in a single go. This feature is particularly helpful for those who need to migrate large amounts of data at once, reducing the effort required significantly. Additionally, there are no file size limitations, so users can transfer as much data as they need without any issues.

One of the standout features of the IMAP Backup Tool is the Mail Filter option, which allows users to filter IMAP emails based on their date. With this feature, you can easily save the required emails to be converted into other file formats. Simply set the start and end date, and the tool will automatically back up the email based on its date.

Should the connection break during the backup process, users can resume the process from the endpoint where the connection breaks. There is no need to restart or reprocess the data, making the entire process more efficient and hassle-free.

Before purchasing the IMAP Backup Tool, it's recommended that users download and use the demo version of the software. This will allow you to try the software for yourself and ensure that it meets your specific needs. Overall, the IMAP Backup Tool is an excellent software that offers robust backup and migration features to ensure your data is always secure and readily available.
What's New
Version 21.9: GUI Update