Seven is a free and professional medical office management software based on Ms Access. Its user-friendly data entry forms and customizable terminology and report texts make it a feature-rich solution for medical offices of all sizes.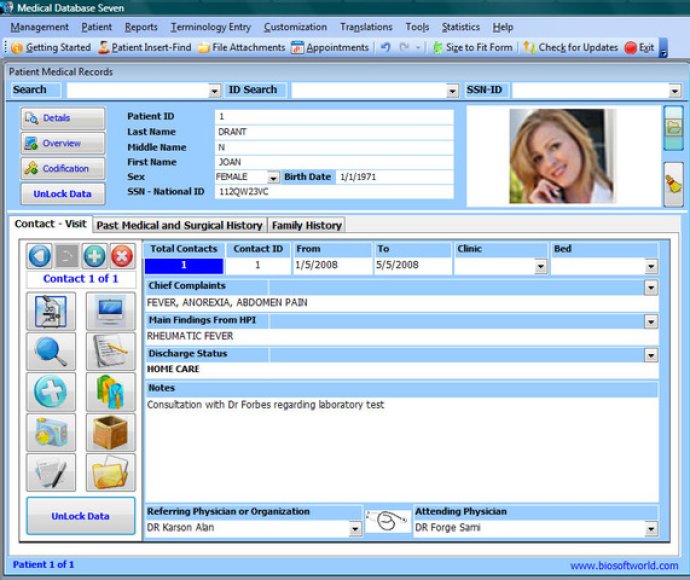 Are you looking for comprehensive medical office management software? Look no further than "Seven" - the ultimate solution for small-sized medical practices! With full integration with Microsoft Office, "Seven" offers many features and functionalities that you will love.

The customizable terminology and reports text using user-friendly data entry forms are especially noteworthy, making it easier to customize the software according to your specific needs. Additionally, the software allows real-time customization and excellent reporting capabilities, ensuring a seamless experience for users.

System requirements include Windows XP, Vista, or Win 7 (32bit -64bit), so make sure you have the necessary software installed before using the Medical Database "Seven." And know that you won't be alone in your journey, as "Seven" comes with unlimited support to ensure that you have the help you need whenever you need it.

As for features, "Seven" boasts a long list of impressive capabilities. With file attachments to patients and PDF conversions, scanning photos and documents, and easy network setup for 2-8 users, you can streamline office operations like never before. The interface is designed by doctors for doctors, ensuring that everything works efficiently and is easy to use.

Customizable report templates, analyzing or publishing with Microsoft Excel or Microsoft Word, ready statistical forms, full customizable terms and values in list boxes, and friendly maintenance ensure that this software will be your go-to solution for managing your medical practice. Plus, it's Vista and Windows 7 ready!
What's New
Version 4.8: SOAP Notes Chart Generator
Version 3.0: File attachments to patient