Metalith is a free Windows metadata editor that facilitates easy yet powerful editing of multiple files simultaneously. With no limitations, the software is user-friendly and efficient in handling metadata.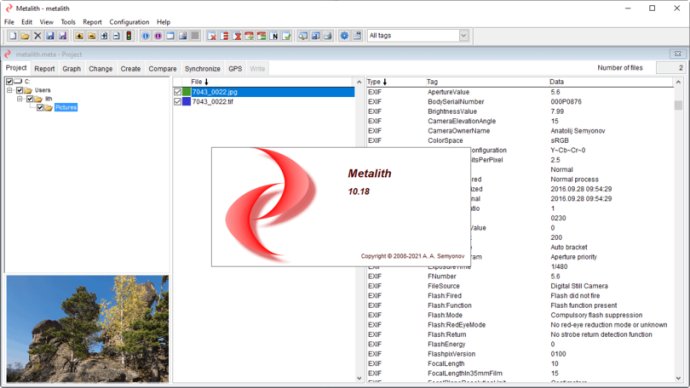 Metalith is a fantastic software for Windows that allows you to edit your metadata with ease. The software is completely free to use and is packed with a range of features that make it a powerful tool for all your metadata editing needs.

One of the most impressive features of Metalith is its ability to support all major standards of metadata, including TIFF, Exif, IPTC, and XMP. Additionally, it supports TIFF and JPEG files, providing full support for TIFF, JPEG, DNG, and MPO files, and limited support for Sony ARW, Canon CR2, Nikon NEF, Olympus ORF, Pentax PEF, Fujifilm RAF, Panasonic RW2, and Samsung SRW files. It even provides XMP support for RAW files.

Metalith enables you to read, analyze, modify, delete, and create metadata, allowing you to compare metadata of two files and copy data of tags from one to another. You'll be able to compare data of two identical tags in one file and synchronize them. You can write GPS and shooting situation data from the track into graphical files using the software, as well as prepare metadata reports and print them on the screen. You can also create a report file in HTML, XML, and TIFF formats.

With Metalith, you can easily view the track and the shooting point in Google Earth and the shooting point in Google Maps. It even allows you to export and import GPS data using KML files. The software also creates graphs for any tag and recognizes thousands of various tags, including unknown XMP tags.

Metalith is completely multi-lingual, currently supporting Chinese (Simplified), Dutch, English, Italian, Polish, Portuguese, Russian, Spanish, and Ukrainian. What's more, it can be easily extended to include more languages.

Overall, Metalith is a must-have software for anyone looking to edit their metadata effectively. With its wide range of features and user-friendly interface, it's an excellent choice for professionals and amateurs alike.
What's New
Version 10.18: Some bugs removed
Version 10.17: Some bugs removed
Version 10.16: Some bugs removed
Version 10.15: Some bugs removed
Version 10.14: Some bugs removed
Version 10.13: Some bugs removed
Version 10.12: Free software
Version 10.11: Free software
Version 10.10: Free software
Version 10.09: Free software