The powerful Xiangqi software has grandmaster-level strength and excels in the middle phase of the game. It's highly intelligent in complex situations, supports up to 64 CPU cores, and allows users to access both local and cloud openbooks.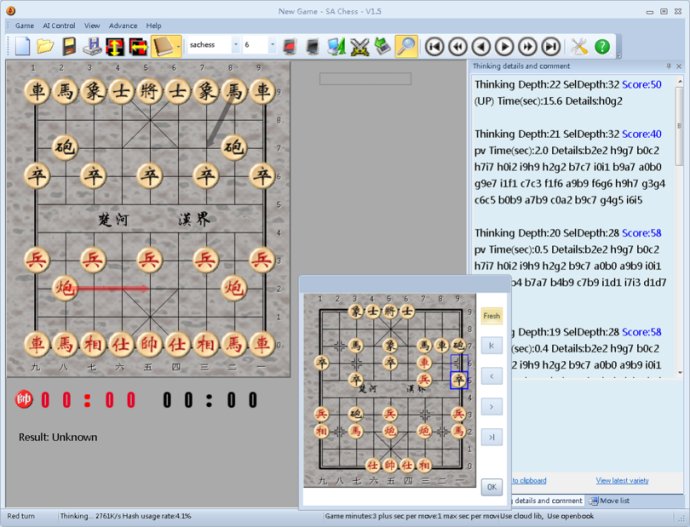 SA Chess is an immensely powerful software designed for people who love Xiangqi, also known as Chinese Chess. This software boasts a strength that is equivalent to that of a grandmaster, and it can make great moves during the middle phase of the game. The software is also remarkably shrewd in complicated situations.

SA Chess supports up to 64 CPU cores and both local and cloud openbook. With its elegant parallel algorithm, this software is capable of supporting multi CPU cores perfectly, which ultimately results in faster speed and stronger strength. Users can also switch engines with just one click, given that the software is compatible with multiple Xiangqi engines.

The latest openbook, which includes Yitian huashan and China's top Xiangqi match records, is always inside. Additionally, free openbook updates are available for download on a frequent basis, ensuring that users always have the most up-to-date variations to play against their internet opponents.

SA Chess makes for a wonderful assistance tool for Xiangqi fans. The strength is adjustable, and it's incredibly convenient to use for replaying and researching Xiangqi games. Unique features like the analyze mode can be used to find the best moves on any complex position you want. And adding comments at any location in a Xiangqi game record is straightforward and painless.

This software uses XML format to save and transmit Xiangqi game records, and you only need to click once to add your comments in SA Chess. The SA Chess UI (user interface) has been designed with elaborate attention to detail, and it is equipped with a variety of themes and images that users can switch up any time they please. Users can even add their favorite images to create their own SA Chess.
What's New
Version 1.5: users satisfied with it's high strength
added cloud openbook and endbook
added real voice to read moves
supported che , mxq file format
added generating png and gif image for xiangqi game
supported UCI and UCCI protocol both
added save to pgn file format
added copy moves