The MICR Font Package provides corporations and developers with 15 high precision MICR fonts and 18 anti-fraud secure fonts for printing checks through their own software. These fonts can print amount and order information with accuracy and security to prevent fraud.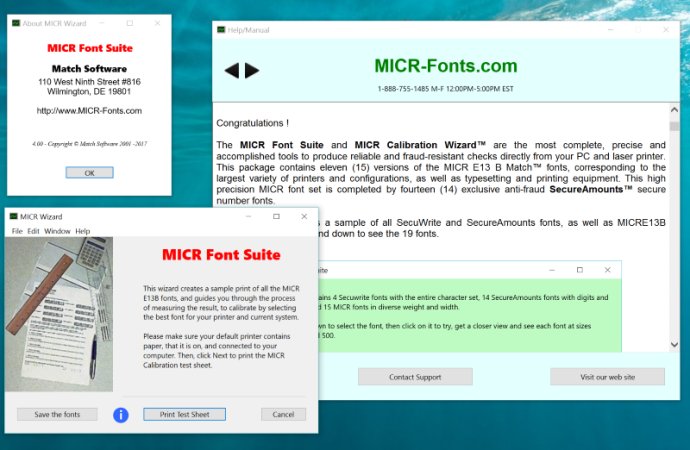 As a software package, the MICR E13B Match Font Set is an excellent choice for corporations and developers who require high-precision MICR fonts to print their own checks through proprietary software. The package comes with 15 fonts to choose from, and an exclusive calibration wizard guarantees the best fit for any configuration. Additionally, the package includes an exclusive set of 14 SecureAmount fonts that feature elaborate anti-fraud techniques, such as networks of fine lines similar to those used on banknotes.

Precision is critical when it comes to MICR E13B characters. Without precise dimensions, the signals generated within readers may be unreliable. Unfortunately, not all MICR fonts are created equal. Many fail to meet the necessary standards or feature positioning inaccuracies that can render the resulting stripes unreliable, which may result in banks levying additional fees, having to process the checks manually or flat-out reject the check. The MICR E13B Match font set has been meticulously crafted with pinpoint positioning accuracy and tested against industry benchmarks. The font collection meets both ANSI and ABA (X9, 27-1995) banking standards for point size 12.

With the MICR E13B Match font set, only one font should be necessary, and it has been optimally designed to print reliably in accordance with accepted banking standards. The package also lets users measure the actual resolution of their printer and the entire printing chain, ensuring that anyone who uses this package can produce accurate and reliable MICR strips.

This package is the only one with the exclusive MICR E13B Calibration Wizard, which allows users to calibrate their MICR fonts accurately and efficiently within minutes. The calibration tool is compatible with all versions of Windows, from 3.1 up to the latest Windows version (currently 8.x), and comes with simple instructions to make calibration a breeze. Once calibrated using the calibration wizard, accurate MICR checks can be printed in just minutes!

Finally, the MICR E13B Match Font Set includes an exclusive collection of SecureAmount fonts. These fonts boast intricate anti-fraud techniques similar to the complex fine-line networks found on modern banknotes. In total, this software package is an excellent tool for any corporation or developer in need of high-precision MICR fonts, and the calibration wizard makes it the ideal choice for anyone looking to print their own checks in-house.
What's New
Version 4.05: New release