Montax Imposer is a PDF and image imposition software that allows users to arrange pages onto one or multiple sheets. The ProHot version has no limitations and includes hotfolder support.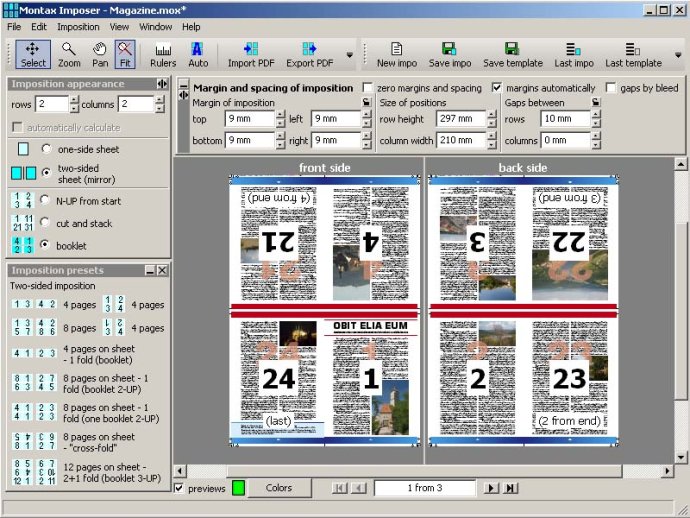 Montax Imposer is a standalone application that simplifies the imposition process by placing multiple pages from PDF documents or images on one or more sheets. This software is incredibly versatile and can be used for a wide range of printing needs, from business cards and invitations to newspapers, magazines, calendars, and books. Whether you're in need of offset printing, prepress, copyshop, or just some personal printing needs, Montax Imposer has got you covered.

The output of Montax Imposer is a PDF file that can be printed on any digital printer, imagesetter or CTP. Moreover, Montax Imposer ProHot version supports automatic imposition using hotfolders. This software allows you to impose pdf quickly in various ways, including the standard N-UP imposition, where pages are imposed side by side to a sheet in the order from the PDF source.

Montax Imposer also features several other imposition types, such as the 'Cut and Stack' imposition designed for numbered tickets print- whereby after cutting the sheets, you just stack the blocks, and the tickets will be in the correct order. The 'Booklet' imposition can be used for printing magazines, newspapers, and books. The software also allows you to use sophisticated imposition variants, such as cross-fold, double cross-fold, their combinations and many other imposition options.

The ProHot version of Montax Imposer has no limitations and supports automatic imposition using hotfolders. With its robust range of features and easy-to-use interface, Montax Imposer is a must-have software for anyone looking to simplify the printing process.
What's New
Version 1.8.2: Feature for correction of digital printer inaccuracies.
Using spot colors for custom objects.
Uniform back side allows you to select back side for the whole sheet.
It is possible to add numbering to the sheet, it can be used for printing of numbered tickets, for adding page numbers etc.