This software helps create boot and repair disks for quick system recovery in case of crashes or damage. Users of Windows NT4/2000/XP can also download standard OS boot disks from MS-DOS 5.00 to Windows XP.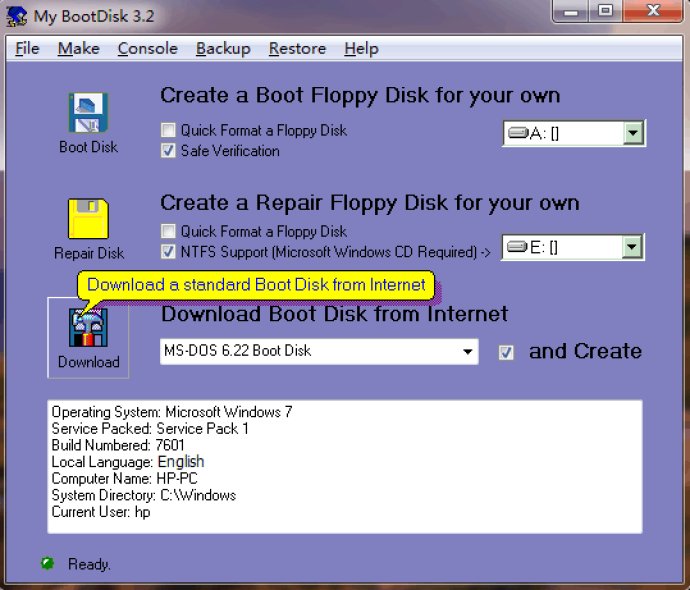 If you want a reliable software for creating a start-up disc for emergency cases, My Boot Disk is what you need. With mouse support, it also includes multiple system-repairing utilities such as boot-up fix, file extraction, drive partitioning, rapid installation, disk format, attributes change, file deletion, file copy, and disk scan. This software can troubleshoot various boot or crash issues and discover potential file damage, making it an essential tool for computer users.

For Windows NT technology-based systems like Windows NT4, Windows 2000, and Windows XP, My Boot Disk provides the solution of booting up with only one floppy disk. This feature enables you to troubleshoot multiple operating system boot crashes and boot files damage cases.

My Boot Disk creates both Boot Disk and Repair Disk. These discs are machine-specific, which means they are made according to your system configuration. Additionally, one exciting function of the software is the ability to download standard Boot Disk from the Internet. This includes MS-DOS 5.00, MS-DOS 6.20, MS-DOS 6.21, MS-DOS 6.22, Windows 95 OEM, Windows 95B, Windows 98, Windows 98 SE, Windows ME, Windows NT 3.51, Windows NT 4.0, Windows 2000, and Windows XP. You can insert your floppy disk after the download and make it thereafter.

My Boot Disk also has the feature to backup and restore essential system files, as well as crucial personal files, including Outlook Express emails, address book, and IE favorites. This tool has become more versatile with the new version as it is now Windows 7 and Windows 8 x64/x86 compatible and supports USB thumbnail disks. In conclusion, My Boot Disk is a comprehensive and reliable software tool that can save your day in case of an emergency system crash.
What's New
Version 3.2: Windows 7 and Windows 8 x64/x86 compatible and supports USB thumbnail disk.