Notesbrowser is a versatile note manager and organizer software. It enables users to effortlessly input and automatically save notes, information, website links, and address lists. Additionally, it offers features like alarms, keyword search, and bookmark access, making it a comprehensive tool for efficient organization and easy retrieval.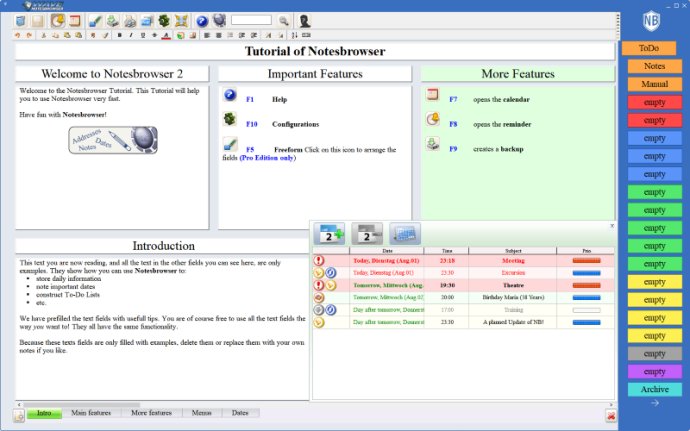 Notesbrowser is a highly useful software system that offers a fast-access systems tray Freeform Organizer for efficient note-taking and date organization. The tool includes a calendar, as well as various fields where users can store to-do lists, dates, bookmarks, or even mp3 playlists. It also comes with an integrated search function that allows for easy retrieval of stored entries. With the added ability to remind users of important dates, Notesbrowser proves to be a highly functional piece of software.

One of the standout features of Notesbrowser is the wide selection of cool skins available. Users have the ability to customize the software interface to their specific preferences, ensuring a personalized experience. In addition to its customization options, Notesbrowser provides users with a convenient way to enter and manage their dates, addresses, and notes all in one place.

It's worth mentioning that Notesbrowser has already been downloaded over one million times, further illustrating its popularity and reliability. The installation process of the software is impressively simple, taking just 15 seconds from start to finish. Moreover, the software comes with an instructional tutorial that can be easily understood in as little as five minutes, allowing users to quickly get acquainted with its features.

Another great aspect of Notesbrowser is its extensive language support. The software includes English, French, German, Spanish, Italian, Dutch, Portuguese, Slovakian, Russian, Turkish, and Ukrainian languages. Additionally, the setup process offers both Freeware and Shareware options, providing users with the opportunity to try the software for 60 days before making a final decision.

Overall, Notesbrowser offers an excellent system for taking notes and organizing dates. Its comprehensive language support, user-friendly installation process, and cost-effective pricing make it an invaluable resource for individuals seeking to stay organized and on top of their day-to-day tasks.
What's New
Version 2.4: Small bugs fixed and new features
Version 2.2: Small bugs fixed and new features