Notesbrowser is a free tool combining a notes manager and Freeform organizer. It allows easy entry, autosave and retrieval of notes, address lists, bookmarks and dates, with a fast search and alarm functionality.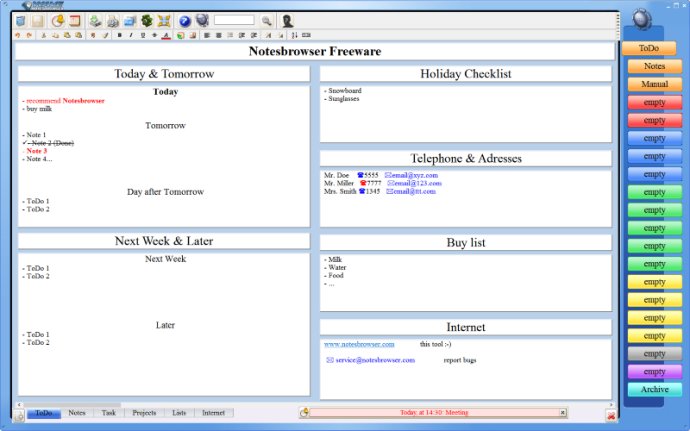 If you're in search of a quick-access system tray Freeform Organizer for note-taking and scheduling, Notesbrowser is an excellent choice. With a calendar and several fields to organize lists, bookmarks, playlists, and dates, this tool offers a lot of functionality for daily organization. Plus, it has an integrated search function to easily locate notes and reminders.

One of the standout features of Notesbrowser is its reminder capability. You can create reminders for important dates or events, ensuring you never miss a deadline again. Additionally, the software comes with several cool skins to customize the interface to your liking.

Overall, Notesbrowser is a solid choice for anyone looking for a simple and efficient way to manage dates, addresses, and notes all in one place. The program has a fool-proof installation process that takes only 15 seconds, and it comes with a tutorial to minimize the learning curve. It supports many languages, making it accessible for a wide range of users.

Notesbrowser is available as both Freeware and Shareware, making it easy to try out the features and decide if it's worth purchasing. The Shareware version offers a 60-day trial, after which you can switch to Freeware or upgrade to Notesbrowser Professional for a reasonable price. With over 1,000,000 downloads, Notesbrowser is a popular choice for people looking to organize their lives efficiently.
What's New
Version 2.2: Small bugs fixed and new features